49ers apologize for leaving Colin Kaepernick out of photo gallery
By Kathleen Joyce
Published October 13, 2018
The San Francisco 49ers have apologized after leaving former quarterback Colin Kaepernick out of a photo gallery that highlighted the team's history against the Green Bay Packers.
The team posted dozens of photos on its website Friday of past games against the Packers before the teams meet again Monday night. However, Kaepernick was noticeably absent from the photos.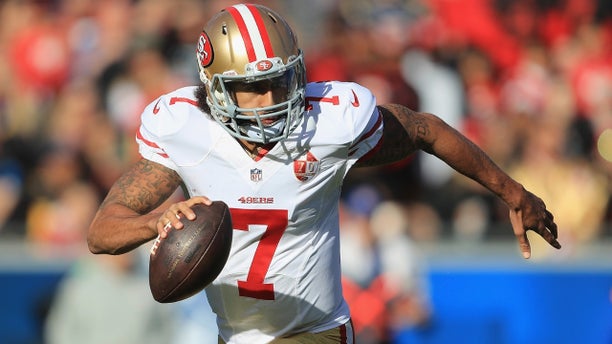 The team acknowledged that Kaepernick was not in the photos. Last year, the former quarterback was included in all seven photo galleries posted on the team's website.
COLIN KAEPERNICK FILES REQUEST TO TRADEMARK IMAGE OF HIS FACE AND HAIR
"Unfortunately there were a handful of obvious misses in this gallery posted by our website team and we appreciate them being brought to our attention," the team said in a statement. "The 49ers organization has tremendous respect and gratitude for the contributions Colin made to our team over the years. We have fond memories of those games and that should have been displayed on our website. This oversight does not properly reflect the appreciation our ownership and this team have for Colin."
After the apology, the team's website added photos of Kaepernick, USA Today reported.
While on the 49ers, Kaepernick set an NFL record for quarterbacks by rushing for 181 yards in a playoff win against Green Bay on Jan. 12, 2013. He also threw for 413 yards in a season-opening win against them in 2013, and led a winning drive to win a playoff game in Green Bay on Jan. 5, 2014.
NIKE'S SALES SURGE AFTER RELEASING CONTROVERSIAL COLIN KAEPERNICK 'JUST DO IT' CAMPAIGN
Kaepernick, 30, made headlines during the 2016 NFL season after he started kneeling during the national anthem before games to protest social and racial injustices. He opted out of his contract the following offseason after the team told him they planned to cut him. Since Kaepernick opted out of his contract with the 49ers at the conclusion of that season, no NFL team has signed him.
https://www.foxnews.com/sports/49ers-apologize-for-leaving-colin-kaepernick-out-of-photo-gallery