Trump attacks 'Psycho' Joe Scarborough, 'Crazy' Mika Brzezinski in Twitter tear
By Cody Derespina, ,
Published June 29, 2017
And on the third day, President Trump targeted "Morning Joe."
After attacking numerous media outlets – including The New York Times and CNN – in morning tweets on Tuesday and Wednesday, Trump on Thursday went after MSNBC show "Morning Joe" and its hosts, former Congressman Joe Scarborough and commentator Mika Brzezinski.
He even took a shot at Brzezinski over a supposed face-lift.
"I heard poorly rated @Morning_Joe speaks badly of me (don't watch anymore). Then how come low I.Q. Crazy Mika, along with Psycho Joe, came to Mar-a-Lago 3 nights in a row around New Year's Eve, and insisted on joining me. She was bleeding badly from a face-lift. I said no!" Trump wrote in a pair of tweets.
About a half hour before Trump's attack, White House Director of Social Media Dan Scavino tweeted his own broadside at Scarborough and Brzezinski: "#DumbAsARockMika and lover #JealousJoe are lost, confused & saddened since @POTUS @realDonaldTrump stopped returning their calls! Unhinged."
Brzezinski appeared to respond with a photo of a cereal box featuring a young girl pointing to the words "Made For Little Hands." The jab was a throwback to 2016's mockery of Trump's hand size. Even former Republican primary opponent Sen. Marco Rubio lobbed a joke on the topic at one debate, leading to an awkward exchange with Trump.
Scarborough simply retweeted a sarcastic remark referencing the once-floated anti cyber-bullying campaign that had briefly been attached to first lady Melania Trump and also a tweet from law professor Laurence Tribe featuring a gif of Trump mocking another reporter.
"It's a sad day for America when the president spends his time bullying, lying and spewing petty personal attacks instead of doing his job," MSNBC said in a statement.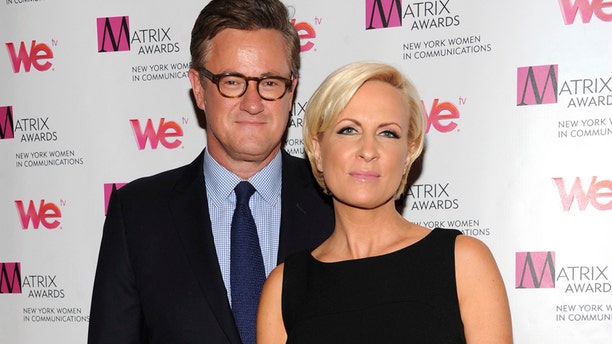 The White House defended Trump's tweets.
"I don't think that the president's ever been someone who gets attacked and doesn't push back," Deputy Press Secretary Sarah Sanders said on "America's Newsroom." "There have been an outrageous number of personal attacks...This is a president who fights fire with fire and certainly will not be bullied by the liberal media."
A spokesperson for the First Lady said in a statement: "As the First Lady has stated publicly in the past, when her husband gets attacked, he will punch back 10 times harder."
Congressional Republicans, however, largely denounced the remarks.
"Obviously, I don't see that as an appropriate comment," House Speaker Paul Ryan said, joining a chorus that included Sens. Ben Sasse, Lindsey Graham and John McCain. "What we're trying to do around here is improve the tone, the civility, of the debate; and this obviously doesn't help do that."
During the Republican primaries, Trump had a cozy relationship with the "Morning Joe" hosts. But as Trump ascended to the position of likely nominee and then the official Republican standard-bearer, Scarborough and Brzezinski turned more critical and Trump stopped his semi-regular call-ins to the show.
After Trump won the presidency, the relationship initially seemed back on track, with Scarborough and Brzezinski – who are engaged – even visiting Trump at his Mar-a-Lago club, the meeting Trump ostensibly referred to in his tweets. A story about the couple's engagement even featured an anecdote wherein Trump offered to officiate their wedding.
More recently, however, Scarborough and Brzezinski have again begun knocking Trump – even going so far as to question his mental state.
On Thursday morning, Brzezinski went on an extended diatribe urging Trump's Cabinet members to stand up to him.
"Everybody in Washington, in the administration, needs to look at this from, I think, a point of view where they're not lobotomized because you're sitting in there and you're so scared of him, and you think you need to suck up to the president," Brzezinski said. "You need to look at this like any company."
She added: "Let's say someone came into NBC and took over NBC, and started tweeting wildly about people's appearances, bullying people, talking about people in the competition, lying every day, undermining his managers, throwing them under the (bus) — that person would be thrown out. It's just not normal behavior. In fact, there would be concerns that the person who runs the company is out of his mind."
It's unclear, however, if Trump saw the critique, as he tweeted that he no longer watched the program.
https://www.foxnews.com/politics/trump-attacks-psycho-joe-scarborough-crazy-mika-brzezinski-in-twitter-tear