Soros-tied nonprofit faces funding loss after memo on plan to 'eviscerate' NC GOP leadership
By ,
Published December 20, 2015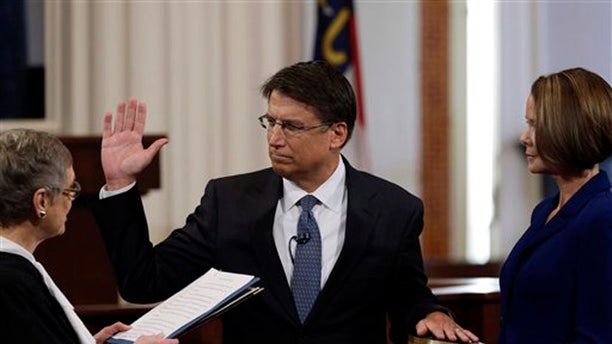 A George Soros-tied nonprofit that is reportedly linked to a memo that proposed using private investigators and other tough political-opposition tactics to "eviscerate" North Carolina Republican leaders now faces losing nearly half its funding, after the plans were uncovered last week.
The Charlotte Observer first reported that an official with Blueprint North Carolina emailed a memo to partner nonprofits calling for "crippling" Republican leaders and launching direct attacks on Republican Gov. Pat McCrory.
"Pressure McCrory at every public event," the official recommended, according to the confidential memo obtained by the newspaper. "Slam him when he contradicts his promises."
In pointed language, the memo also called for "private investigators" and a "staff of video trackers" to follow targeted officials. "Eviscerate the leadership," the email reportedly said.
While The Observer claimed the email came from a Blueprint official, Blueprint North Carolina is denying that the group itself was behind the memo.
"Blueprint NC continues to be the victim of a deliberate disinformation campaign by political operatives seeking to silence our free speech rights around important issues facing North Carolina," Executive Director Sean Kosofsky said in a statement. "Blueprint NC did not author the memo and did nothing to violate its 501c3 status. Should an investigation or lawsuit be pursued in an attempt to silence or intimidate us, we will defend our right to free speech."
The group is running into trouble in the wake of the reports. The North Carolina GOP has reportedly filed two complaints against the organization.
And the Z. Smith Reynolds Foundation, which provided $425,000 of Blueprint North Carolina's $1 million, says it is consulting with a lawyer on how to move forward. Foundation Executive Director Leslie Winner said she's not sure whether Blueprint violated its tax-exempt status by getting involved in partisan politics. But the group at the very least exercised "bad judgment," she said, according to The Charlotte Observer.
Winner said the foundation "believes in robust debate on issues of public importance" but does not support attacking people, according to The Observer.
"We will get to the bottom of it," added Winner, who did not respond Monday to questions from FoxNews.com about the foundation's funding decision.
According to state financial records, the group is also funded by an array of foundations, including the George Soros-backed Open Society Institute, which gave $150,000 in 2011.
Blueprint says its mission is to influence state policy so residents will "benefit from more progressive policies" such as better access to health care and a cleaner environment.
However, the group also says all activities will be "strictly non-partisan" and that its charity status prohibits it from getting involved in political campaigns – for or against any candidate for public office.
The memo also included talking points identical to language used by House Minority Leader Larry Hall in his response to McCrory's State of the State address, including that the governor's plan for charter schools "lacks accountability."
Hall told the newspaper last week he's not sure where his language came from because he researches a variety of sources
https://www.foxnews.com/politics/soros-tied-nonprofit-faces-funding-loss-after-memo-on-plan-to-eviscerate-nc-gop-leadership