Kim Jong Il in 'Full Control' of North Korea, National Security Chief Says
By ,
Published December 24, 2015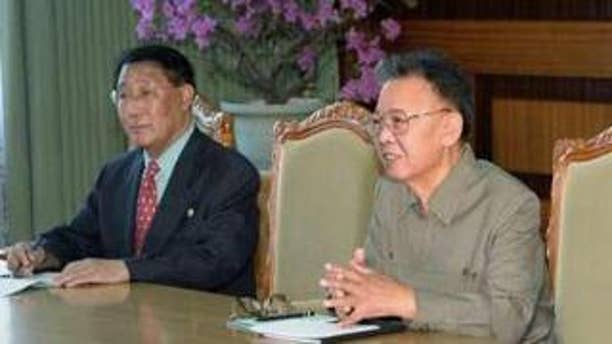 North Korea's Kim Jong Il appears to be in "full control" of his country, National Security Adviser Jim Jones said Sunday, citing first-hand observations gleaned from former President Bill Clinton's rare mission to the communist nation.
Jones said the administration is still debriefing the party that accompanied Clinton to North Korea to bring home two jailed American journalists. But despite reports that Kim is ailing and indications that he is setting up his own succession, Jones told "FOX News Sunday" that he has not lost his grip on power.
"Preliminary reports appear that Kim Jong Il is in full control of his organization, his government," Jones said. "He certainly appears to still be the one who is in charge."
Kim, who may have had a stroke last year, appeared thinner in photos of the visit last week. The photos showed him standing or sitting next to Clinton at several stages of the visit.
Jones said Clinton and Kim talked for three and a half hours, and described the conversations as "respectful and cordial in tone."
He insisted that North Korea got nothing more out of the visit than the photo op, saying with "absolutely a straight face" that the United States granted no secret concessions in exchange for the journalists.
"There was no official message sent via the former president and there were no promises, other than to make sure that the two young girls were reunited with their families," he said.
Kim apparently made a specific request for Clinton to travel to North Korea and meet him, and U.S. officials have said they became convinced that if the former president undertook the mission the two journalists in captivity would be freed in exchange. Kim held to that, granting Euna Lee and Laura Ling -- accused of crossing illegally into the country -- a pardon last week after Clinton held talks with Kim.
The reporters were reunited with their families in Los Angeles.
Jones said during the mission, Clinton and Kim talked about denuclearization and other topics. He said the North Koreans have indicated they would like a "better relation" with the United States -- Jones also expressed a willingness to join the North Koreans in direct talks so long as they also re-join international negotiations.
"They've always advocated for bilateral engagement. We have put on the table in the context of the talks we would be happy to do that if, in fact, they would rejoin the talks," he said.
https://www.foxnews.com/politics/kim-jong-il-in-full-control-of-north-korea-national-security-chief-says