Boston veterinarians help puppy 'grow' new leg bone
By ,
Published October 25, 2015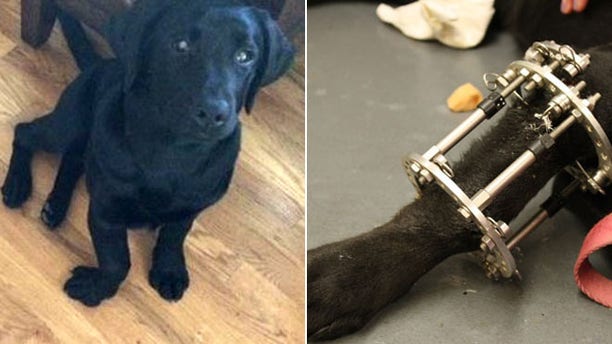 A black lab is recovering after Boston veterinarians performed surgery to correct a debilitating birth defect that made it painful for her to even stand, MyFoxBoston.com reported.
Jessica Cantone and her fiance, Nick, brought home 2-week-old black lab puppies. One of the puppies, named Lucy, had a front paw that faced outward and prevented her from playing and walking with her sister, Lola. A local vet told Cantone that as Lucy grew, her other legs would compensate for what her front right paw couldn't do.
But the limping only got worse, and Lucy's leg was about an inch shorter than the other three. Veterinarians recommended Cantone bring her puppy to the Massachusetts Society for the Prevention of Cruelty to Animals (MSPCA) Angell Animal Medical Center for a second opinion.
There, MSPCA veterinarians performed a procedure called corrective osteotomy, cutting Lucy's lower leg bone and using a device called a circular external fixator to re-align the bone, according to a news release. The fixator is devised to keep the two ends of the bone aligned to encourage osteogensis, in which the two ends of the bone begin to grow back together.
"For nearly a month we turned three knobs, three times per day, with a wrench to keep the pace with the growing bone -- it was fantastic to know that we are literally helping her grow new bone tissue," Cantone said in a news release posted on MSPCA's website.
Vets expect Lucy to wear the device for a few more weeks, and then the puppy will attend physical therapy to help build her leg muscle.
"I know she'll go home to have many years to enjoy hiking, running, walks in the park and all the other activities that have been so hard for her in the past," Cantone said in the news release.
Click for more from MyFoxBoston.com.
https://www.foxnews.com/health/boston-veterinarians-help-puppy-grow-new-leg-bone