Wisconsin girl, 6, bags 6-point buck under state's new hunting law
By Katherine Lam, ,
Published November 22, 2017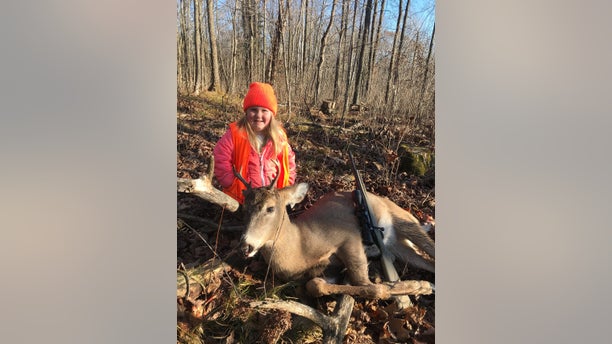 A 6-year-old Wisconsin kindergartener bagged her first six-point buck on Sunday, one of the first children to do so after the state nixed its minimum hunting age.
Tyler Harris bought his daughter Lexie a youth rifle and took her hunting in the woods near their rural Medford hoe in Taylor County, about 230 miles northwest of Milwaukee. The father-daughter duo eventually spotted the buck strolling by their wooded shelter in clear view.
"She was shaking," Harris told the Associated Press.
MISSOURI HUNTER BAGS 39-POINT BUCK AFTER FOUR YEARS OF TRYING
The 6-year-old took her rifle, aimed and pulled the trigger, striking the buck. They later found the dead animal by tracking a blood trail.
'"She looked at me right away and said, 'I'm not gutting it because that's gross,'" Harris said.
The father field dressed the deer and hauled it out of the woods.
"He beams," Lexie's grandmother, Karen Zubke, said describing her son. "He's so proud of her."
Harris has been taking his daughter on hunting trips since she was 3, but it was only recently — when Wisconsin Gov. Scott Walker signed a new law on Nov. 12 — that the young hunter was allowed to legally shoot a deer. Hunters had to be at least 12 years old to purchase a hunting license or hunt with a gun in the state. Children as young as 10 could participate in the mentored hunt program.
HUNTER BAGS TWO 'BUCKS OF A LIFETIME' IN SAME WEEK
However, the new law allows anyone, regardless of age, to participate in a mentored hunt and the mentor and student are each allowed to carry their own weapon.
Wisconsin Department of Natural Resources (DNR) featured Lexie Harris' hunting success on its Twitter page, captioning it: "Six-year-old Lexi sat many hours yesterday without success but today her persistence paid off.  Her father, Tyler Harris, had tears of joy when his little hunting partner got her first buck & poses for Warden Randy Dunkel. Congratulations, Lexi!"
Zubke said she's glad her son believes his child doesn't have to be a boy to hunt.
Wisconsin's gun deer hunting season kicked off last Saturday, according to Wisconsin DNR. Gun-toting hunters roamed the state to take a shot at some of 1.4 million deer.
The Associated Press contributed to this report. 
https://www.foxnews.com/great-outdoors/wisconsin-girl-6-bags-6-point-buck-under-states-new-hunting-law