'Beloved' wolf killed just outside Yellowstone renews debate over buffer zones
By Michael Bartiromo
Published December 03, 2018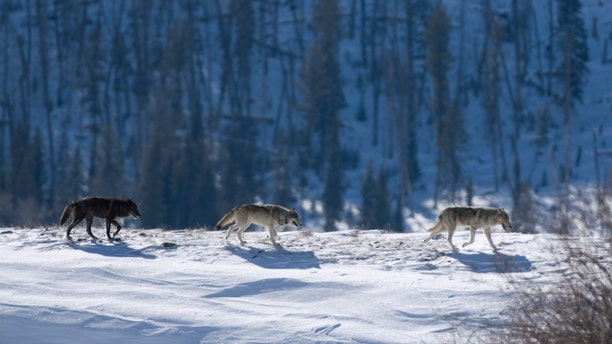 A 7-year-old wolf known as Spitfire, who was a popular sight among wildlife watchers at Yellowstone National Park over the last several years, was shot and killed by a hunter last weekend after wandering just outside the park's border.
The incident closely mirrors the death of that same wolf's mother — who was known as 832F, and nicknamed "06" after the year she was born — in 2012, The New York Times reported.
DRAMATIC VIDEO SHOWS HUNTER RESCUING BUCK FROM FROZEN LAKE
Upon her death, 832F was eulogized by the Times and called "the most famous wolf in the world" by wildlife photographer Jimmy Jones. A book, "American Wolf: A True Story of Survival and Obsession in the West," had also been written to celebrate her life.
Montana wildlife officials say Spitfire, also a female, known as 926F of the Lamar Canyon Wolf Pack, was killed sometime in late November. Despite being a legal kill, admirers of Spitfire and her mother have since vowed to fight to establish buffer areas around the park's borders where hunting such animals for sport would be off-limits.
"We are passing along the devastating news that our beloved 926F of the Lamar Canyon Pack was killed in the Montana trophy hunt," a Facebook group called The 06 Legacy wrote in a tribute Friday.  "She was the daughter of our namesake 06 and she was known as the Queen of the Lamar Valley."
Karol Miller, the founder of the Facebook group, added that she and her followers are now planning to fight "even harder" for protections for Yellowstone's wolves, which she says "are killed for nothing more than sport."
Critics have also questioned the sportsmanship of killing wolves just outside Yellowstone's boundaries, as some have learned to see humans – including the ones who photograph them on wildlife tours – as not being a threat to their survival. Yellowstone's wolf biologist further told the Times of hearing hunters brag about the ease of killing wolves who wander just over the border.
"Wolf hunters talk about seeing a pack of park wolves outside the boundary and being able to pick the one they want," Doug Smith told the outlet.
Proponents, meanwhile, say that hunters are needed to control the population of wolves in Montana to protect nearby big-game species.
FOLLOW US ON FACEBOOK FOR MORE FOX LIFESTYLE NEWS
Smith confirmed that the Lamar Canyon Wolf Pack's chances of survival have been hindered with Spitfire gone, and her two children are now serving as the alphas of the pack. He estimates there being around 100 protected wolves in Yellowstone National Park, spread across 10 packs.
https://www.foxnews.com/great-outdoors/beloved-wolf-killed-just-outside-yellowstone-renews-debate-over-buffer-zones