'Beach spreading' banned in New Jersey shore town: 'People weren't using common sense and decency'
By Janine Puhak, ,
Published September 19, 2017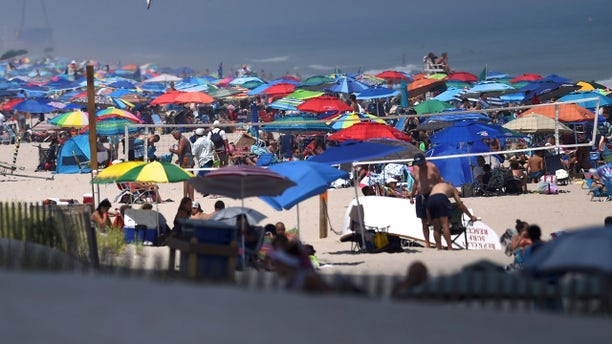 On September 6, the borough council of Belmar,N.J., voted to outlaw an increasingly common practice known as "beach spreading," with the new ban set to take effect at the start of the summer 2018 season.
According to the ruling, large tents and canopies will be banned from Memorial Day until Labor Day to curtail crowding at the popular Monmouth County stretch of shoreline, reports the Asbury Park Press.
CHRISTIE'S PRESS SECRETARY DEFENDS GOVERNOR'S BEACH OUTING
As large tents took over the beach more and more in recent summers, Mayor Matt Doherty said complaints began pouring in from everyone from the Department of Public Works and law enforcement officials to beach staff and patrons alike.
"I'm not in favor of more government regulation but it got to the point where people weren't using common sense and decency," he said.
Doherty added that the trend of bringing large tents on the beach became noticeable in summer 2015, and complaints starting multiplying in summer 2016. The scene became more and more "like tailgating at MetLife Stadium," Doherty told NJ.com.
7 VACATION DESTINATIONS YOU PROBABLY WANT TO AVOID
While it's no surprise that beaches at one of the most densely populated states are getting packed during summertime months, the growing numbers of tents became an issue, as they obstructed ocean views, enabled illegal alcohol consumption, and increased litter, Doherty said.
While the ordinance includes strict limitations, beach umbrellas and tents for small children will still be allowed.
The "beach spreading" phenomenon was dubbed as so by the Philadelphia Inquirer to describe the practice of hauling massive tents, furniture and gear onto public beaches as to claim space for large groups. Akin to "glamping," beach spreaders bring all the comforts of home into the great outdoors, from coolers and wading pools to portable fans and music speakers.
FOLLOW US ON FACEBOOK FOR MORE FOX LIFESTYLE NEWS
Belmar's ban follows the actions of neighboring shore towns including Seaside Heights and Long Beach Island, which have adopted similar ordinances, said the Asbury Park Press.
https://www.foxnews.com/great-outdoors/beach-spreading-banned-in-new-jersey-shore-town-people-werent-using-common-sense-and-decency