SNL reportedly cut material about Weinstein before show
By ,
Published October 09, 2017
"Saturday Night Live," which parodies late-breaking newsmakers on a weekly basis, did not mention the sexual harassment allegations surrounding Hollywood kingmaker Harvey Weinstein and reportedly cut out material during its dress rehearsal.
The New York Times, citing an unnamed source at NBC, reported that there were jokes about Weinstein, but they were cut out before airtime. There were some jokes for the "Weekend Update" segment — but those jokes reportedly fell flat with the studio audience.
Lorne Michaels, SNL's legendary creator, told The Daily Mail that the show did not go after Weinstein because he is from New York.
"It's a New York thing," he said. Weinstein was born in Queens.
The show is famous for its relentless satire of President Trump. Donald Trump, Jr., tweeted Sunday, "Out of curiosity where is @realdonaldtrump from??? Seems like there could be more to that pass than this nonsense."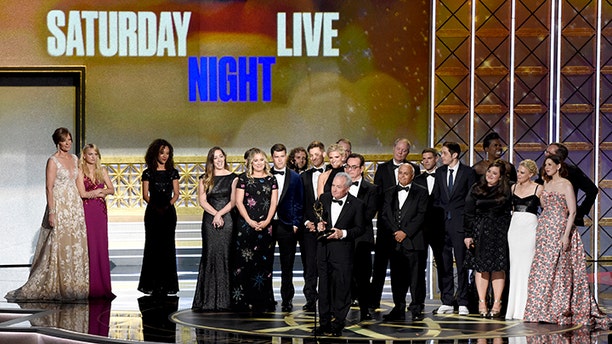 The show featured a performance from Jason Aldean, who was on the stage during last week's mass killing in Las Vegas. He paid tribute to the victims of the massacre and to the late rocker Tom Petty.
Aldean performed Petty's "I Won't Back Down" during the live opening Saturday night and then introduced the show.
"This week we witnessed one of the worst tragedies in American history," he said. "So many people are hurting. You can be sure that we are going to walk through these tough times together every step of the way."
Social media took notice on how Weinstein was left out of the show.
"Why didn't big mouth Michael Che say anything about Harvey Weinstein on SNL 'Weekend Update'? He's got so much opinion about everything else," Pastor Darrell Scott, a Trump supporter, posted on Twitter.
ESPN columnist Buster Olney called the show "gutless."
"SNL with nothing on Weinstein? Gutless," he posted early Saturday.
The Associated Press contributed to this report
https://www.foxnews.com/entertainment/snl-reportedly-cut-material-about-weinstein-before-show