Rafa Benitez Replacing Roberto Di Matteo as Chelsea Manager
By ,
Published December 16, 2016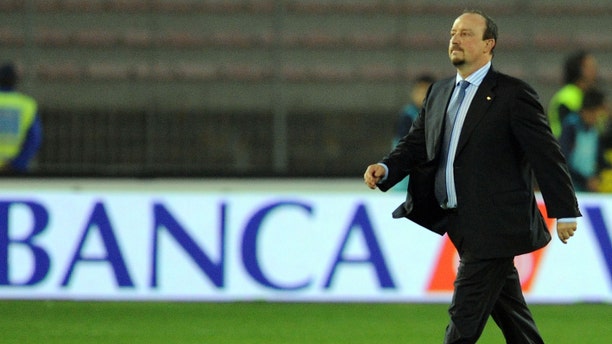 Veteran Champions League head Rafa Benítez has been named the new Chelsea manager after the unlikely firing of Roberto Di Matteo.
Just six month after guiding the club to an unlikely Champions League title, Roberto Di Matteo's reign came to an abrupt end after the team's tattering 3-0 loss at Juventus on Tuesday.
In his place will be Spaniard Rafa Benítez whose last position at Inter Milan two years ago was short lived, lasting only six months.
ESPN reports that the Chelsea website has confirmed that Benítez will fill the role as interim first-team manager until the end of the season.
"The owner and the board believe that in Benítez we have a manager with significant experience at the highest level of football, who can come in and immediately help deliver our objectives," the club's statement said.
Russian owner Roman Abramovich displayed his trademark ruthless side by getting rid of Di Matteo since Chelsea has come dangerously close to be the first defending champion team to be eliminated from the group stage.
"The team's recent performances and results have not been good enough and the owner and the board felt that a change was necessary now to keep the club moving in the right direction as we head into a vitally important part of the season," Chelsea said in a statement.
Given Abramovich's history of hastily firing managers — he is looking for his ninth in nine years — there was some inevitability about Di Matteo's demise. The Swiss-born Italian was only hired on a full-time basis in June after an impressive stint as temporary coach.
"Wow, Chelsea have sacked their manager!! ... its a madness," Manchester United defender Rio Ferdinand said on Twitter.
Chelsea was in disarray when Di Matteo, then an assistant coach, took over from the fired Andre Villas-Boas in March. The former Italy midfielder brought together squabbling factions and led the team to the FA Cup title — the club's seventh — and a first Champions League trophy, beating Barcelona in the semifinals and Bayern Munich in the final.
Di Matteo, with his typical coolness, has also been praised for the way he handled a racism case involving John Terry that engulfed the club. Chelsea is in the middle of another racism incident, having accused a Premier League referee of abusing one of its players.
However, Abramovich moved quickly following the first disappointing run of results this season.
In the Premier League, Chelsea had been leading for much of the season but now trails Manchester City and Manchester United after picking up just two points from its last four matches.
The team is third in Group E of the Champions League behind Shakhtar Donetsk and Juventus with one match left. The Blues next face Danish club FC Nordsjaelland, but they will be eliminated even if they win if Juventus earns at least a point in Ukraine.
"The club faces a difficult task ahead in qualifying for the knockout stages of the UEFA Champions League as well as maintaining a strong challenge for the top of the Premier League while competing in three other cup competitions. Our aim is to remain as competitive as possible and challenge strongly on all fronts," Chelsea said.
Chelsea's next game will be a home Premier League match against Manchester City on Sunday.
The 42-year-old Di Matteo went into coaching after his playing career was cut short by injury and led both the MK Dons and West Bromwich Albion before joining Chelsea's backroom staff.
"We will never forget the huge contribution he has made to this club's history," Chelsea's statement said.
Benitez has been out of work since being fired by Inter in December 2010. Although experienced, his appointment would raise eyebrows given his trademark defensive approach. Abramovich is widely known to prefer his team to show a more attacking style, demonstrating this by spending a combined reported $110 million on attacking midfielders Oscar, Eden Hazard, Marko Marin and Victor Moses in the offseason.
Guardiola, the architect behind Barcelona's stunning recent success, is believed to be Abramovich's preferred choice. In four years at the Nou Camp, he won three Spanish league titles and the Champions League twice while retaining the team's attractive passing style so admired by Abramovich.
With reporting by the Associated Press.
Follow us on twitter.com/foxnewslatino
Like us at facebook.com/foxnewslatino
https://www.foxnews.com/entertainment/rafa-benitez-replacing-roberto-di-matteo-as-chelsea-manager