Nick Loeb's Proposal to Sofia Vergara Caught on Video
By Alexandra Gratereaux, ,
Published January 10, 2017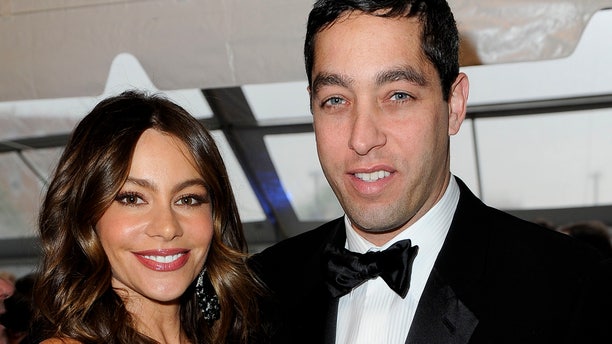 The evidence of Sofía Vergara's proposal is now a public affair as her son Manolo has released footage of the big moment on his new documentary YouTube show "Mi Vida Con Toty."
In the video clip like shot last month, Vergara--along with 107 family members and friends--are in Mexico celebrating the "Modern Family" actresses' 40th birthday. As a group they take a tour of the Mayan ruins in Chichen Itza. Then after being granted permission to climb the pyramid,   Vergara's boyfriend Nick Loeb popped the question.
"One of my mom's dreams came true," Vergara's son says. "As a little girl she always wanted to go on top of the pyramids. They actually did it. They actually got special permission to go up to one of the pyramids."
Perhaps Vergara was caught in the moment so much that she and Loeb took a wrong turn when coming down from the pyramids, resulting in one of the staff members unaware that Vergara and Loeb had permission, threatening to send Vergara to jail if she did not get off the pyramids.
"She is a little clueless," Manolo jokes in the video about the jail scare. "It would have been funny, sad, but hilarious had she gone to a Mexican prison the day before her birthday."
To celebrate Vergara and Loeb's engagement, the Colombian stunner and her entourage went to an over-the-top lunch party with traditional Mexican dancers.
Vergara then takes this opportunity to show off her new bling bling.
The footage ends with the last night of Vergara's celebration as a mariachi bands serenades for her during her birthday extravaganza.
Rumors were swirling early last month that Loeb had proposed but entertainment mag People en Español claimed they spoke to a close source who denied the speculation.
The magazine quotes an unidentified spokesperson for Vergara as saying: "To date, she has not become engaged. Every day she wears a different ring because she has a whole house full of jewelry."
Indeed, the news about the supposed engagement comes as a surprise, given that the two were reportedly splitting just two months ago.
According to sources cited by People, the two have strong chemistry, but also spend a lot of time arguing.
The two managed to bounce back, though they face lingering difficulties.
"There are compromises to work out on both sides," a source told People.
The wedding bells news comes just as Loeb was accused of getting wild and crazy with a few call girls and living a Charlie-Sheen like adventure while dating the stunning Vergara.
Loeb adamantly denied the allegations made by the tabloid, The National Enquirer. Loeb, who was mulling a U.S. Senate bid for almost a year, says the rumors are simply not true.
"My first priority is to protect the people I love, and I hope they are not impacted by these lies and irresponsible reports," Loeb told the New York Post.
"I am mortified that false illicit behavior has been attributed to me," he added. "It's hurtful and unfair."
The gossip came just days after Vergara and Loeb reconciled—after a brief breakup due to repeated arguments.
The New York Post says Loeb, who is the grandson one of the Lehman Brothers, is mulling taking legal action against the tabloid for spreading false rumors.
https://www.foxnews.com/entertainment/nick-loebs-proposal-to-sofia-vergara-caught-on-video