Kylie Jenner shows support for model Tammy Hembrow who was wheeled out of her 21st bash on stretcher
By Morgan Evans, ,
Published August 23, 2018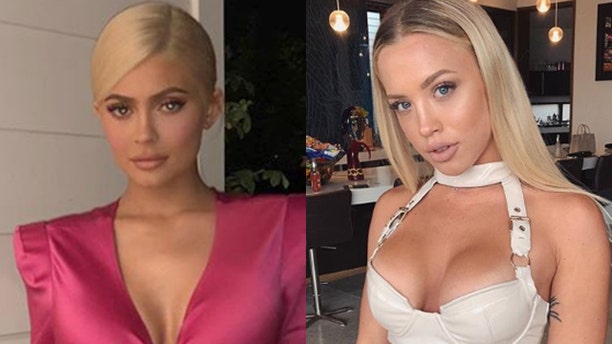 Kylie Jenner and social media star Tammy Hembrow may have buried the hatchet following the reality star's 21st birthday party, where the Australian Instagram model was wheeled out of the bash on a stretcher. 
Despite rumors that the Kardashian clan had kept their distance from the 24-year-old model following her dramatic exit from Jenner's Hollywood party, the makeup-mogul appears to have moved on from the scandal.
Hembrow, who has shared several photos since the night of Jenner's birthday, recently posted a new photo showing off her toned abs while in a skimpy, nude-colored biniki and posing in front of a rose-petal-filled outdoor bathtub.
According to the Daily Mail, Jenner confirmed the fact that things were OK between the two by liking the mother's sexy photo. Jenner's photo "like" suggests that the two have possibly been in contact since the star's 21st birthday and may have decided to put the scandal behind them.
Following the news that Hembrow was rushed to the hospital during Kylie's party, Kris Jenner, the reality star's mother, spoke out about the incident on the Australian Radio show "Kyle and Jackie O."
"I hope she's OK," Kris said of Hembrow but admitted that she was not present at the time the ambulances arrived on scene at Deliah's nightclub. "I actually left before any of that happened. I typically go to bed at nine o'clock so it was way past my bedtime."
Hembrow then took it upon herself to address the event and explained her reasoning for the occurrence in a YouTube video.
"So, basically what happened was I was in L.A. I was running off pretty much 30 hours no sleep. I was struggling to stay awake even when I was getting my hair and makeup done. I was literally sitting there, like, falling asleep. Like, I could barely keep my eyes open."
The model, who boasts a following of 8 million on Instagram, further explained that in addition to overworking herself, she was also distracted and recovering from a breakup with her fiance, Reece Hawkins.
"I probably, definitely shouldn't have been drinking because of how jet-lagged I was, because of how exhausted I was, and I already wasn't feeling well at all...I pretty much collapsed."
The model concluded her statement by saying she was "super, super embarrassed" about her actions, but was ready to move.
https://www.foxnews.com/entertainment/kylie-jenner-shows-support-for-model-tammy-hembrow-who-was-wheeled-out-of-her-21st-bash-on-stretcher