Russian Driver Proves F1 Cars Can Fly... Short Distances
By ,
Published October 10, 2016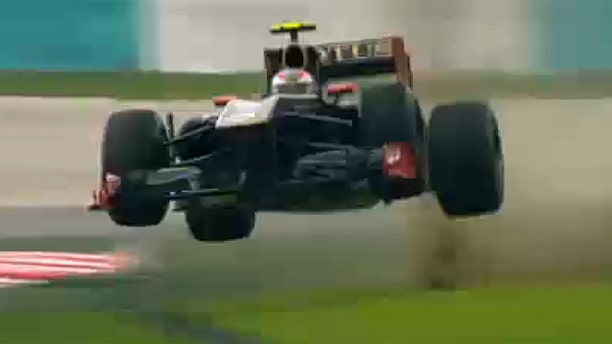 Formula One cars have wings, but they're not supposed to fly.
Apparently someone forgot to tell that to Lotus Renault driver Vitaly Petrov.
Sitting in eighth place with just two laps to go at this past weekend's Malaysia Grand Prix, the Russian driver hit a dirty section of the circuit, causing his tires to lose grip and forcing his car onto the grassy runoff area. Although he hit the slippery surface at high speed, the second-year driver managed to keep the car under control and steer it back toward the paved track.
Unfortunately, there was a bump between him it that launched the car into the air like the Duke Boys' General Lee. As the car came crashing back to earth, the steering column broke from its mounts, leaving the wheel hanging limply in Petrov's hands. Luckily, his multi-million dollar projectile didn't spin, flip or hit any of the other cars still in the race as the uninjured pilot used his brakes to bring it to a stop on the opposite side of the track.
Recounting the incident to Autosport.com after the race, Petrov said "It is not scary. You know it will be a big shunt but it is scarier when you see a wall when you are crashing."
Petrov ended up in 17th place just two weeks after finishing an impressive third in the previous Grand Prix at Melbourne, Australia, as his teammate, Nick Heidfeld, did in Malaysia. Both races were won by defending F1 champ Sebastian Vettel, who drives for Red Bull Renault.
Fox Car Report is on Twitter. Follow us @foxcarreport
https://www.foxnews.com/auto/russian-driver-proves-f1-cars-can-fly-short-distances