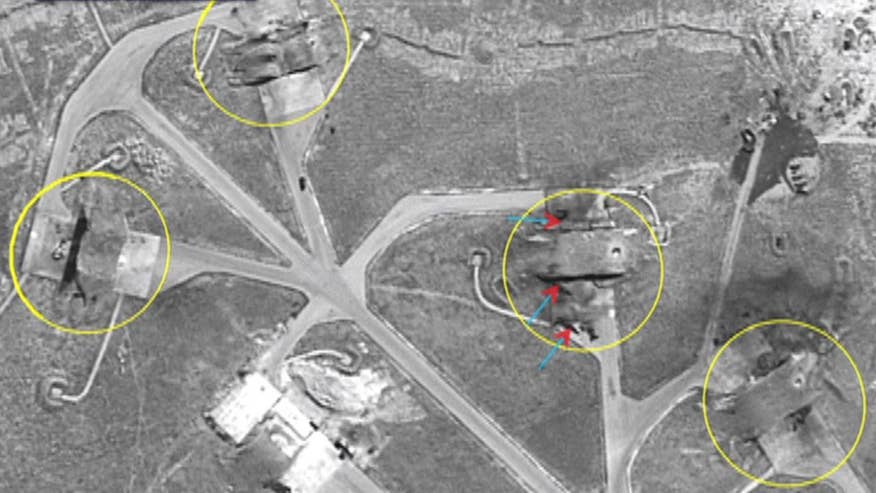 As the debate grows over President Trump's decision to launch dozens of Tomahawk missiles into Syria, some critics are beginning to wonder what kind of evidence the U.S. had that Syrian President Bashar al-Assad was behind Tuesday's chemical weapons attack.
On Thursday, the Department of Defense released a map showing what it said was the specific flight pattern of the aircraft believed to have been used in the attack. Speaking to reporters, Secretary of State Rex Tillerson said officials "have a very high level of confidence that the attacks were carried out by aircraft under the direction of the Bashar al-Assad regime."
The map shows that, over the course of a nine-minute period, what are believed to be Syrian government jets made two separate trips to and from the airbase that was eventually targeted by U.S. missiles. Those trips were apparently being monitored by U.S. radar systems at the time, and shortly after there were reports that people in the area were suffering symptoms consistent with exposure to chemical weapons.
"[We] have a very high level of confidence that the attacks were carried out by aircraft under the direction of the Bashar al-Assad regime."

- Secretary of State Rex Tillerson
National Security Advisor H.R. McMaster suggested the U.S. picked its target for Thursday's missile strikes specifically "because we could trace this murderous attack back to that facility." McMaster added that the level of confidence among U.S. officials has only grown since the Tuesday attack, pointing specifically to evidence gleaned from the victims of the attack. He warned, however, that he believes the Assad regime still possesses the power to launch similar attacks.
Sources told Fox News that despite assurances that the Syrian chemical weapons program had been disbanded, overhead imagery of the airbase in question showed that chemical agents were being housed at that location.
Syria has denied using chemical weapons, with one government official suggesting there would be no need for such an attack at a time when Syrian government forces were said to be achieving victories on various fronts.
Russian President Vladimir Putin claimed earlier in the week that Syrian jets had actually struck a rebel-controlled location where chemical weapons were being stored, but also admitted there is "no dispute that Syria used banned chemical weapons" in the past.
Adding to the notion that Syrian rebels may have been behind the attack are reports, like this one from late 2016, suggesting that ISIS has used chemical weapons more than 50 times in Syria and Iraq. It was in summer 2014 that ISIS captured a former chemical weapons facility in Iraq, leading to fears that the terror group would not only use the weapons themselves, but potentially distribute them to others.
Fox News' Catherine Herridge contributed to this report