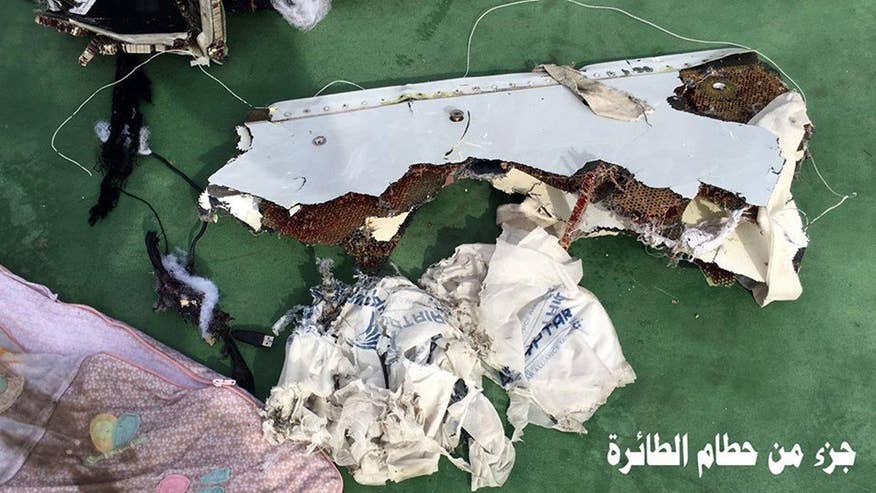 Investigators scouring flight data from EgyptAir Flight 804 for clues into what caused the plane to spiral and plummet into the Mediterranean Sea Thursday, killing all 66 aboard, are now zeroing in on a four-minute sequence of events that unfolded before the plane's computers shut down.
Data transmitted from the plane to ground stations indicated that a window sensor in the cockpit first went off, followed by smoke detectors in the forward bathroom and electronics bay, analysis shows. Then the computers lost power.
Analysts told Fox News the four-minute sequence was likely too slow to indicate a massive explosion, but too fast for a fire or simple technical failure.
Investigators believe a theory on the terror side could be a small explosive device, similar to a shoe bomb or underwear bomb that was set off manually in the plane's forward bathroom, prompting the smoke detectors to go off.
Other analysts suspect faulty wiring in the cockpit window's defroster unit, with one noting that, if confirmed, it would be the first time a window defroster brought down a plane.
Investigators said the plane lurched left, then right, spun all the way around and plummeted 38,000 feet, never issuing a distress call.
Meanwhile, closer checks of airline passengers began Monday at the Charles de Gaulle Airport in Paris, where the EgyptAir flight departed before heading on its scheduled route to Cairo.
Pentagon spokesman Capt. Davis said Monday the U.S. Navy has sent eight P-3 flights from Sigonella, Italy, to search for pings from the aircraft's black boxes. On Saturday, one of the P-3 flights found a large debris field.

A French ship with sonar listening devices was also headed to the scene of the crash Monday, about 180 miles north of the Egyptian port of Alexandria. On Sunday, France's Navy reported a debris field.
Also Sunday, Egypt sent a robot submarine to look for wreckage. The vessel can operate at a depth of 9,800 feet.
In his first public comments since the crash, Egyptian President Abdel-Fattah el-Sissi said Sunday it "will take time" to establish what happened aboard the Airbus A320.
"It is very, very important to us to establish the circumstances that led to the crash of that aircraft," el-Sissi said in remarks broadcast live on Egyptian TV. "There is not one scenario that we can exclusively subscribe to. ... All scenarios are possible."
After starting his comments with a minute of silence to remember the victims, he thanked the nations that joined Egyptian ships and aircraft in the search.
Beside Egypt, ships and planes from Britain, Cyprus, France, Greece and the United States started taking part in the search for the debris from the aircraft, including its flight data and cockpit voice recorders. Crews already recovered some wreckage including human remains.
Egypt's aviation industry has been under international scrutiny since Oct. 31, when a Russian Airbus A321 traveling to St. Petersburg from the Red Sea resort of Sharm el-Sheikh crashed in the Sinai Peninsula, killing all 224 people aboard. Russia said the crash was caused by a bomb planted on the plane, and the local branch of the Islamic State terror group claimed responsibility, citing Moscow's involvement in Syria.
Thursday's crash will likely cause further damage to Egypt's tourism industry, already reeling from years of political turmoil. The nation of 90 million people has been in crisis after crisis since a popular 2011 uprising toppled autocrat Hosni Mubarak. Since then, it has seen a dramatic surge in attacks by Islamic militants, bouts of deadly unrest, a battered economy and the steady decline in the value of its currency.
In Cairo, several hundred mourners attended a memorial service Sunday for nine Coptic Christians killed in the crash, including 26-year-old flight attendants Yara Tawfik.
The service was held in the Boutrossiya Church, located inside Cairo's St. Mark Cathedral, the seat of Egypt's Coptic Orthodox Church.
Relatives sobbed and prayed as Bishop Daniel, the senior cleric who led the service, offered words of comfort on behalf of Pope Tawadros II, leader of the Coptic church.
"The church, the pope, the state and its representatives are very moved by this painful incident and are all standing together in offering their condolences to these families," Daniel said. "They've ascended to heaven."
Fox News' Greg Palkot, Lucas Tomlinson and The Associated Press contributed to this report.