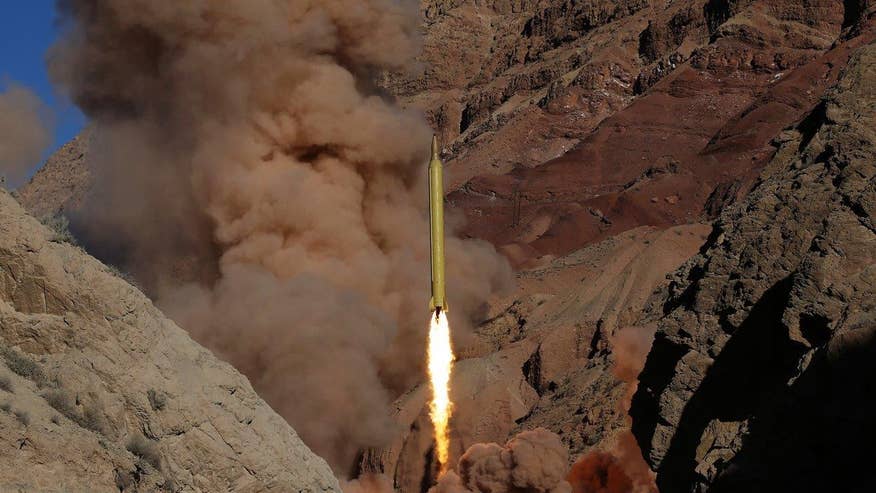 Israeli Prime Minister Benjamin Netanyahu called on world powers Saturday to take "immediate punitive steps" against Iran, following the country's ballistic missile tests.
U.S. officials told Fox News Friday that Iran is preparing to launch a new long-range rocket into space as soon as the weekend. Any test of a new ballistic missile would be a direct violation of a UN resolution forbidding Iran from working on its rocket program.
A statement from Netanyahu's office said he had told the Foreign Ministry to appeal to world powers that negotiated the landmark nuclear deal with Iran to act, according to Reuters.
"They must take immediate punitive steps following the repeated gross transgressions by Iran in the matter of rockets," the statement said. Israel said it would be a test for world powers to test their ability to "enforce the nuclear agreement."
Samantha Power, the U.S. ambassador to the UN, said the U.S. will raise the issue during a closed door Security Council meeting next week and is urging other countries to cooperate on undermining Iran's missile program.
This week, Iran launched multiple ballistic missiles on one day for the first time since 2012, according to defense officials.
UN Security Council Resolution 2231 says Iran is "not to undertake any activity related to ballistic missiles designed to be capable of delivering nuclear weapons, including launches using such ballistic missile technology."
Thursday, a senior Revolutionary Guard commander said that Iran's ballistic missile program will continue to move forward, despite threats of international sanctions.
The U.S. State Department says the launches this week were not in violation of the nuclear deal, but "inconsistent" with UN Security Council Resolution 2231, which was tied to the nuclear deal when it went into effect.
Vice President Joseph Biden, while meeting Netanyahu Wednesday did not acknowledge the missile launch directly, but he issued a strong warning to the Iranians.
"A nuclear-armed Iran is an absolutely unacceptable threat to Israel, to the region and the United States. And I want to reiterate which I know people still doubt here: if in fact they break the deal, we will act," he said.
Iranian Revolutionary Guards senior commander was quoted as saying last week that its latest round of missiles were being designed to hit Israel.
Fox News' Lucas Tomlinson contributed to this report.