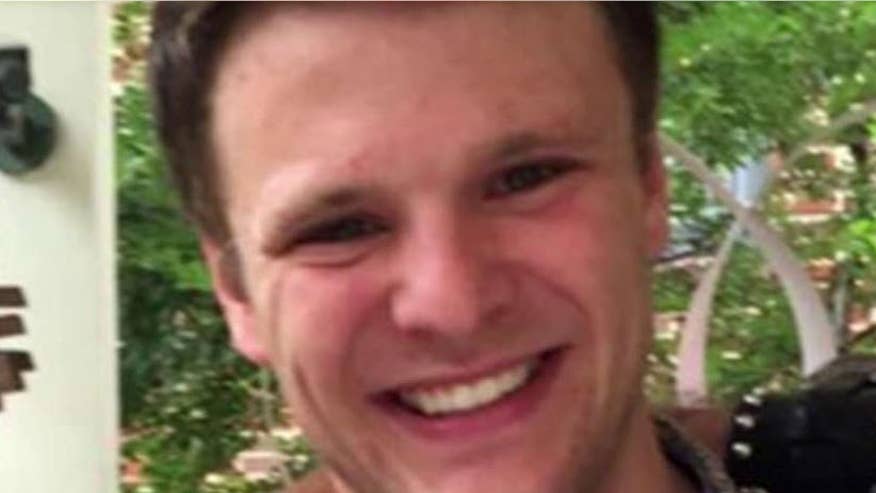 An American university student who was recently detained by North Korea is being held over an undisclosed incident at his hotel before he was scheduled to board a flight to Beijing, a China travel agency said Saturday.
North Korea said it had detained Otto Warmbier, a University of Virginia student, because of a "hostile act" orchestrated by the U.S.
Gareth Johnson, the CEO of Young Pioneer Tours, confirmed to the Associated Press Saturday that Warmbier had been staying at Pyongyang's Yanggako International Hotel and was not with other tourists when the incident happened. The company said in a statement Warmbier was detained at the Pyongyang Airport on Jan. 2, but didn't explain what happened at the hotel.
The company said in its statement that an airport official told one of Young Pioneer's guides after Warmbier was detained that he had been taken to a hospital. The guide attempted to go back to see him, but was unable to as airport staff ushered her through immigration, the company said. The company later learned "there had been an incident," according to the statement.
Charlotte Guttridge, a tour leader at the tour agency, told Reuters that "what happened, happened at the hotel and my belief is that Otto kept it to himself out of hope it might go unnoticed."
Guttridge insisted Warmbier acted like any other tourists and that none of the guides had any idea what allegedly happened at the hotel.
The U.S. and South Korea have been pushing for tough sanctions against the North over its latest nuclear test on Jan. 6. North Korea has detained a few Americans, South Koreans and other foreigners in recent years, accusing them of anti-North activities in what analysts say are attempts to wrest outside concessions.
Johnson told Reuters the company was in contact with Warmbier's family, U.S. officials and the Swedish Embassy in Pyongyang, which represents U.S. interests in North Korea.
The State Department said in a statement it was aware of the situation, but didn't release any other details, citing privacy concerns.
Warmbier would be the third Westerner known to be held by the secretive Communist state. Last year, South Korean-born Canadian pastor Hyeon Soo Lim was sentenced to life in prison for alleged subversion.
Earlier this month, a Korean-American man told CNN that he was being held by North Korea on suspicion of spying. The U.S. State Department said it could not confirm the CNN report. It declined to discuss the issue further.
The United States and North Korea are in a technical state of war because the 1950-53 Korean War ended with an armistice, not a peace treaty. About 28,500 American troops are stationed in South Korea.
The Associated Press contributed to this report.