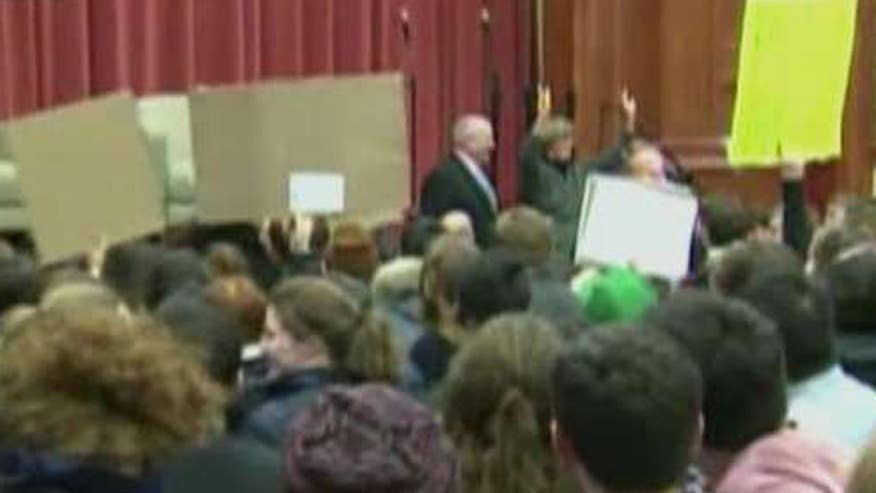 Controversial author Charles Murray is scheduled to speak at the University of Notre Dame on Tuesday and despite growing calls for protests from some students and faculty, organizers are standing behind the invitation.
The event comes weeks after violent protests broke out at Middlebury College where Murray was set to speak.
The 74-year-old author of "Coming Apart: The State of White America" was invited to the Catholic university as part of a lecture series for a constitutional law and politics class.
CHARLES MURRAY: 'INTO THE MIDDLE OF A MOB' -- WHAT HAPPENED WHEN I TRIED TO SPEAK AT MIDDLEBURY
Kate Hardiman, a senior who is organizing the event, told "Fox and Friends" on Tuesday morning it was "unfortunate" that students have promised to protest against Murray.
"I think that the majority of Notre Dame students are committed to free speech and open dialogue on campus and that these protests are being driven by a very vocal minority who seek to disrupt the event," she said. "This is part of a larger trend of students who want to shut down ideas that they find disagreeable. The irony is that 'tolerance' is the watchword on campuses these days, yet only certain ideas are apparently worthy of being tolerated."
HOW MIDDLEBURY STUDENTS PROVED CHARLES MURRAY RIGHT
The calls for protest at Notre Dame came just weeks after the violent protests broke out at Middlebury, a small liberal arts college in Vermont, where Murray also was set to speak. Demonstrators interrupted Murray's speech and the event was forced to be canceled after the protests turned violent, sending one professor to the hospital.
In a letter to alumni last week, college President Laurie L. Patton condemned the violence and reiterated the college's commitment to free speech and dialogue.
"A 21st century education must embrace an uncompromising commitment both to free speech and to open dialogue that creates a more inclusive public sphere," she wrote, according to VermontBiz. "Free speech must be defended on all sides, and only through this principle will we achieve the work of making society more inclusive."
Vincent Phillip Muñoz, the Notre Dame professor who invited Murray to speak, stood behind the invitation, saying in an op-ed on Real Clear Politics that rescinding it would "communicate that violence works."
Notre Dame prof: Why I invited Charles Murray to speak
"I want my conservative students to read smart, persuasive liberal thinkers, and I want my liberal students to read thoughtful conservatives," he wrote. "Educated citizens can give reasons for their beliefs and can defend intellectually the positions they hold. That requires that we understand and articulate the positions with which we disagree."
He said that while he appreciates the concerns for the wellbeing of students, he believes that "what is most harmful to students – and, to speak candidly, most patronizing – is to 'protect' our students from hearing arguments and ideas they supposedly cannot handle."