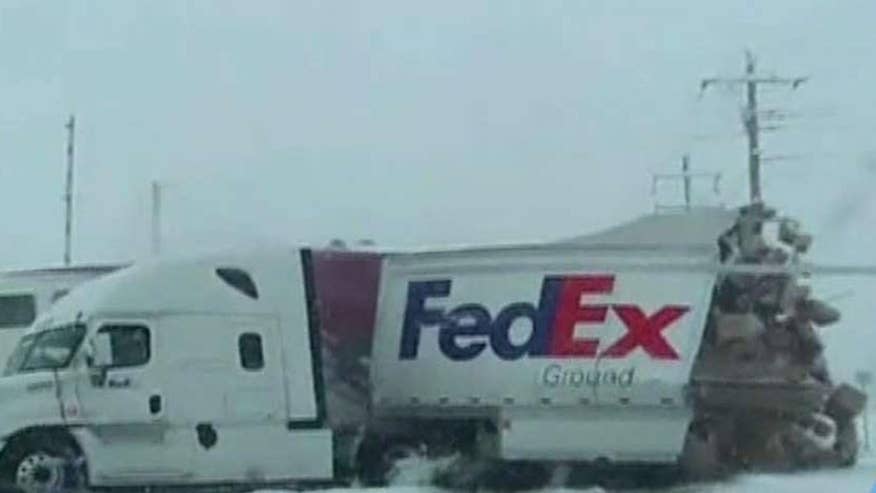 Dashcam video from inside a North Salt Lake Officer's patrol car shows a collision between a Utah Transit Authority passenger train and a semi truck.
The video, released Tuesday, came from an accident near the Woods Cross platform on Saturday morning around 10 a.m.
"It's a very shocking video," said UTA investigator Dave Goeres. "It's unprecedented at UTA. We are very grateful that nobody was hurt in the incident."
VIDEO: PUSH TO SCREEN TRAIN OPERATORS FOR SLEEP APNEA
The dashcam video shows the railroad crossing arms are up at the point of impact, but Goeres said from a technical standpoint, the arms were working correctly. He said the crossing arms are normally triggered by a train when it crosses signals or sensors farther down the tracks. However, those sensors were blocked by weather conditions.
"We had the blizzard Saturday morning with very heavy ice and snow," Goeres explains. "And because of that and salt conditions, that mixture at times can actually short out the track, which happened in this instance and dropped the gates."
Goeres explained a fail-safe tactic UTA uses. When the signal is lost, the arms then drop, and a UTA worker is called out to the location to fix it. Goeres said that in this instance, the arms were down for at least 12 minutes before a UTA worker was dispatched to the location.
"There was something that went wrong at this particular location," Goeres said. "We have downloaded the information, and are conducting interviews with people that were involved."