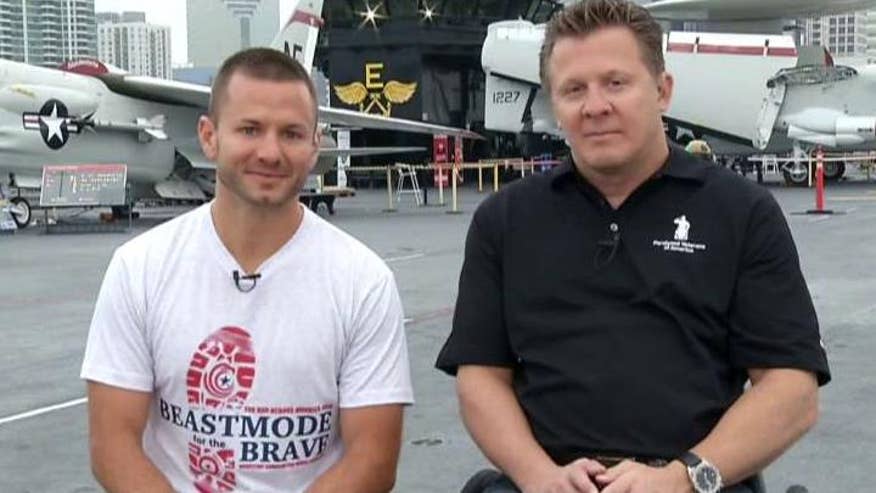 George Chmiel set off on a 3,000-mile run on the 15th anniversary of the Sept. 11 attacks in an effort to pay homage to U.S. veterans. His four-month, 14-state journey – which included a stop at a Veterans Affairs hospital – will come to an end Tuesday in New York City.
His grueling, cross-country trek began in San Diego, Calif., last September. The extreme athlete, known for his punishing races in places like Antarctica and the rugged terrain of Australia, said with his latest pursuit he hopes to bring attention to mental health issues facing military veterans, including post-traumatic stress disorder.
Chmiel is raising money for two veterans' organizations, Paralyzed Veterans of America and Guardian for Heroes, for his run. He ran for 92 days, averaging about 32 miles a day.
On Tuesday, Chmiel will cross the George Washington Bridge into New York City and will wrap up his run with a "unity walk." He will then meet up with Jeff Kyle, brother of "American Sniper" Chris Kyle, at Ground Zero to finish his run across America.
"When I first heard that some crazy guy – George [Chmiel] – wanted to run 3,000 miles across America to raise money and awareness for veterans, I was a little set back," Jeff Kyle, co-founder of Guardian for Heroes, told Fox News. "I couldn't believe that a 'civilian' with zero military background would put themselves through that much pain, physically and mentally, just for us."
Kyle said Chmiel was a true "patriot."
"We as veterans need to lean on our civilian population and vice versa – we have to understand and believe in each other to truly help," he said. "The run across America embodies the spirit of what I call 'citizen service.'"
VETERANS MAY FACE HIGHER RISK OF SUICIDE DURING FIRST YEAR HOME
Chmiel describes himself as a "hard-charging East Coaster" living in San Diego with a "[penchant] for pushing the envelope and breaking barriers."
A month after he started his run, he stopped at a VA hospital in Dallas. He flew back to the hospital two months later, in December, to be part of a presentation there on mental health issues involving U.S. Veterans.
"The run across America embodies the spirit of what I call 'citizen service,'" Paralyzed Veterans of America National President Al Kovach Jr. said in a statement. "Though he began his journey in an election year when politics dominated the headlines, he and the run across America team and partners focused on the needs of veterans."
Chmiel will cross the Hudson River by way of the George Washington Bridge bike path before running through Central Park and Times Square toward Ground Zero. There, veterans and civilians are invited to join him along the Hudson River Greenway for the final leg of his long journey, a 2-mile "unity walk."
Admission is free of charge, but all unity walkers have been asked to carry an American flag. The event begins at 3 p.m.
Brooke Singman is a Politics Reporter for Fox News. Follow her on Twitter at @brookefoxnews.