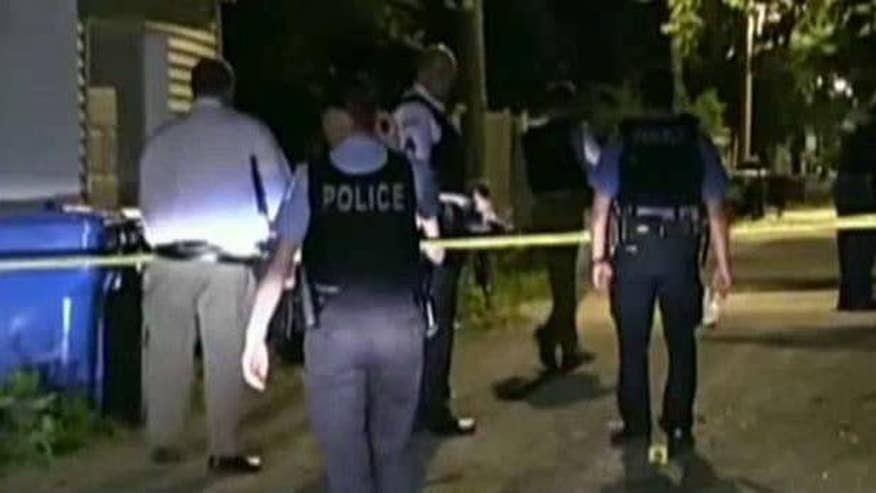 Chicago mayor Rahm Emanuel, who's struggling to repair his tattered image, fought tears and pleaded with neighbors to support the city's police officers as he unveiled a three-part plan to fight the city's staggering violent crime and bloodshed.
"We cannot afford to lose another generation to the gangs and to the streets and to the guns and to the violence," Emanuel said.
Emanuel's plan is comprised of enforcement, investment and prevention. The controversial mayor struggled to keep his composure as he gave examples of the innocent victims who were shot and killed in recent weeks on the streets of Chicago including a 6-year-old girl who was playing on a stoop and a mother walking her children to sign up for school.
"Every one of us was sickened by the recent murder of Nykea Aldridge while she pushed a baby carriage down the street to register her kids," Emanuel said. "And what makes it even worse is that her murder might have been prevented if her alleged perpetrators had been given the sentence they deserve for previous crimes."
The enforcement part of the plan includes adding 970 new police officers to the force, promoting hundreds of police officers familiar with the streets to sergeants and lieutenants, seeking more federal help to assist in crime-fighting and supporting a bill that would ensure repeat gun offenders receive the strongest sentencing. The city released details of its plan the same week backlash erupted over police-involved shootings in Tulsa and Charlotte, where nights of protests led to riots.
Emanuel pleaded for Chicago to support its police.
"While we're going to add significant resources to our police department, no resource will match the resource of an officer knowing the neighborhood they work in supports their work," Emanuel said.
The Chicago Police Department has struggled to recruit and keep up with the attrition rate. CPD now has several hundred fewer officers compared to when Emanuel took office.
The mayor admitted Chicago police have to rebuild trust after allegations of racism and a series of videos showing white officers shooting and killing black teens.
"They need your reassurance and they need to know that they have to earn the public's trust. They don't get a blank check," Emanuel said.
For investment, the city plans to require every officer to wear a body camera and carry a Taser. Officials also say they hope to install more gunshot-detecting cameras to the deadliest streets and spend millions providing intense counseling and mentoring to young, vulnerable men and boys who get sucked into gangs.
"Many crimes being committed are by young men with gang affiliations," Emanuel said. "To have any chance from killing each other and innocents, Chicago must provide an alternative for young men to join gangs."
For prevention, Emanuel said the city needed to keep guns out of the hands of criminals. The mayor echoed his continued support for a bill that would hold Chicago gun stores accountable for selling to criminals and would also ensure repeat offenders face harsh sentences.
"We need to stop the revolving door for repeat gun offenders. These violent offenders must know that their punishment will match the seriousness of the crimes they committed and the value and the sanctity of the lives they have taken from their fellow family members," Emanuel said.
In addition to mentoring, the city will provide job opportunities for those who typically don't have them and will expand its program that encourages and funds the expansion of retail and commercial businesses in abandoned neighborhoods.
Chicago's crime rate is on pace to reach figures not seen since the crack cocaine wars of the late 1980s. More than three thousand people were shot this year. The murder count has approached 550.
"I go around this city. I see kids today, a look in their eyes, where the vitality, the hope and the purpose has been stolen from them because of the harshness of this city. It has been robbed from them and we cannot avert our eyes as a city any longer," Emanuel said.
Matt Finn is a Fox News correspondent based in the Chicago bureau. Follow him on Twitter: @MattFinnFNC