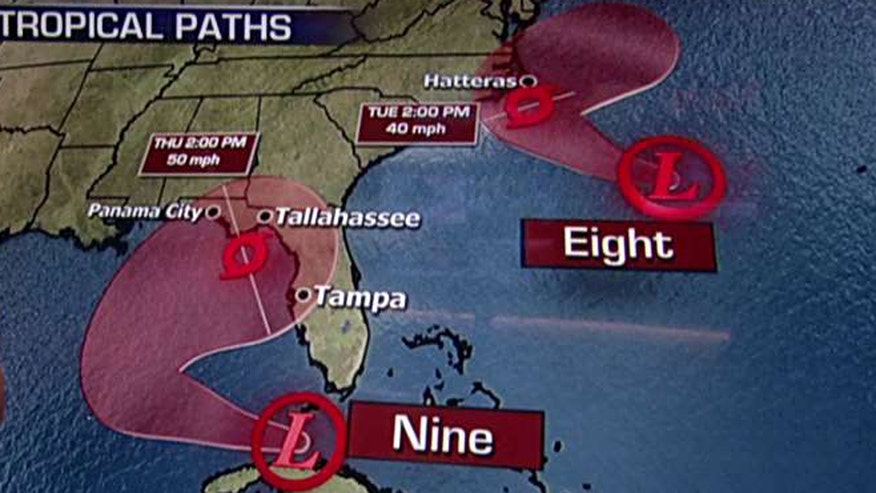 RODANTHE, N.C. – Beachgoers, boat captains and business owners on North Carolina's Outer Banks warily eyed a potent tropical weather system Monday that could rain out one of the last busy weeks of the summer.
The first system was expected by forecasters to become a tropical storm before brushing the North Carolina coast Tuesday, bringing heavy rain and high winds to barrier islands popular for serene beaches.
Another tropical depression in the Gulf of Mexico could hit northern Florida as a tropical storm later in the week and possibly head toward the Atlantic coast, forecasters at the National Hurricane Center in Miami said. They cautioned that the storm's exact path remained uncertain days in advance.
Coastal Dare County in North Carolina could face winds of up to 45 mph with higher gusts and heavy rain that could flood low-lying areas from through Wednesday, according to an emergency management news release. To the south, Carteret County officials also warned of flooding and advised residents to monitor forecasts.
A tropical storm warning was issued for areas of the coast from Cape Lookout to the Oregon Inlet along the Outer Banks.
"I would advise everybody to take a look at the weather," Dare County emergency management director Drew Pearson said when asked whether visitors should keep their travel plans. "They need to make those decisions based on what they see in the weather forecast."
As of 5 p.m. Monday, the first depression was located about 140 miles southeast of Cape Hatteras with top sustained winds of 35 mph and moving to the northwest. It was expected to become a tropical storm by Tuesday but not grow stronger than that, said National Weather Service meteorologist Shane Kearns in eastern North Carolina.
"Anything is possible, but we're not really seeing any kind of significant strengthening for the storm," he said in an interview.
The second depression was about 195 miles west of Key West, Florida, with maximum winds of 35 mph. It was moving west, but forecasters expect it could curve back to the northeast in the coming days. Authorities at some locations in the Tampa-St. Petersburg area of Florida were hauling out sandbags Monday to offer residents amid predictions of heavy rains.
On North Carolina's Outer Banks, business owner Jennifer Scarborough said her biggest concern was that the first storm could saturate the area before another blow by the second storm.
"The second storm is the one I'm more worried about," she said. "I'm definitely keeping an eye on it and planning accordingly. ... If we have a lot of rain in a short amount of time that could be a problem. "
Roads along the thin barrier islands are prone to flooding and damage from erosion, including the two-lane N.C. Highway 12 that is the area's main north-south artery.
"N.C. 12, our lifeline on Hatteras Island, even in a winter storm has some challenges," Pearson said.
Scarborough, who manages Hatteras Harbor Marina and owns the Harbor Deli next door, said she's receiving concerned calls from customers and that some captains are canceling fishing trips for Tuesday and Wednesday. With Labor Day approaching, the week represents one of the last busy stretches of summer for the area.
"It's definitely making people think twice about coming here," she said.
To the south on Ocracoke Island, Rob Temple was securing two sailboats he uses for sightseeing cruises and helping his friends do the same.
"All the boat owners are helping each other double up lines," he said.
Temple said the island should be spared from significant flooding or damage if the current forecast holds, but he's learned to take precautions no matter what.
"You can't always count on what they say. Their guess is only so good, even with their high tech instruments," he said.
In the central Pacific, Hurricane Madeline strengthened Monday into a Category 3 storm as it swirled about 630 miles east of Hilo, Hawaii. Top sustained winds rose to 115 mph as the storm moved west-northwest at 10 mph. Authorities issued a hurricane watch for Hawaii County and said interests elsewhere in the main Hawaiian Islands should monitor the storm's progress.
Elsewhere in the Pacific, Hurricane Lester strengthened into a powerful Category 4 storm with maximum sustained winds of 130 mph while churning west at 14 mph some 1,375 miles west of the southern tip of Baja California, Mexico. Forecasters said it posed no immediate threat to land.