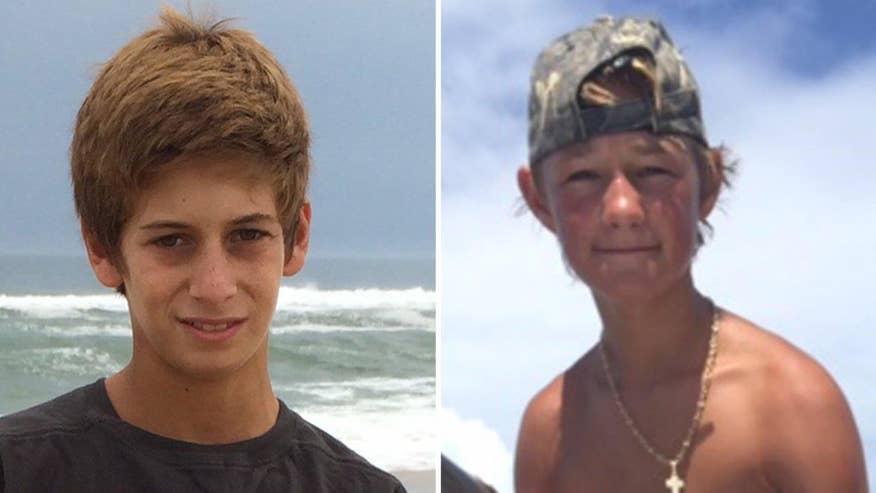 A pilot told FoxNews.com that two days after two Florida teenage fishermen disappeared at sea last summer, he may have spotted one of them desperately signaling for help on a makeshift raft off the coast of Georgia.
Bobby Smith, 63, believes he saw either Austin Stephanos or Perry Cohen with hands raised when his Piper Warrior flew over debris east of St. Marys, Ga., on July 26.
"No doubt about it," Smith told FoxNews.com Friday. "There was a small person lying on that debris." He described it as two large pieces of Styrofoam lashed together with a bright-colored life vest.
Smith told investigators with the Florida Fish and Wildlife Conservation Commission what he saw during his search for the missing boys. The interview is part of a 128-page investigative report the agency released this week describing the unsuccessful effort to find the boys.
Stephanos and Cohen set out on a fishing trip from Tequesta, Fla. on July 24. They disappeared when their boat capsized during a severe storm. Their bodies were never recovered, but a Norwegian cargo ship spotted their 19-foot boat near Bermuda last month and recovered it. Onboard were Austin's iPhone and some fishing gear.
"Heart-breaking ain't the word for it."

- Pilot Bobby Smith
The Cohen family filed a lawsuit this week asking that law enforcement be allowed to search the phone. A judge and both families agreed to send it to Apple in order to try getting the data inside.
Smith told the Sun Sentinel that after searching the water for two hours, his 10-year-old granddaughter spotted something in the water. He circled three time to within 200 feet for a closer look.
"It was obvious it was a person lying on their back," Smith told the paper. "When we circled, both arms came up. It was a shock."
He told the newspaper Thursday he was certain it was one of the teens.
Smith said his granddaughter took cellphone photos of what they saw as the plane climbed to a higher altitude so he could contact the Coast Guard. His step-daughter was also in the plane, he said.
The photos show a blurry object in the water.

A Coast Guard plane arrived at the spot within 20 minutes, but was unable to find anything in the water.
"Heart-breaking ain't the word for it," Smith told FoxNews.com.
He speculated that a wave may have washed over the debris before the Coast Guard got there.
He said he volunteered to search for the boys through a Florida friend.
The Associated Press contributed to this report.