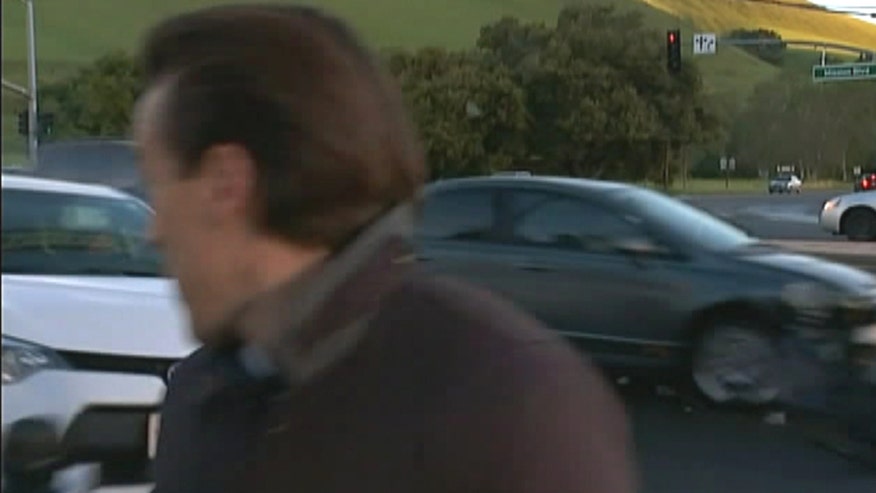 A Northern California television reporter and cameraman narrowly avoided being hit by a car while reporting on air Tuesday morning.
KTVU reporter Alex Savidge was covering a commuter train derailment for the station's "Mornings on 2" program when viewers heard a loud bang and cameraman Chip Vaughan hollered at him to watch out.
KTVU crew nearly hit by car. Watch @AlexSavidgeKTVU emotional thank you to photographer https://t.co/K5P76H7S35 pic.twitter.com/8E7mdWN5QN

— KTVU (@KTVU) March 8, 2016
Savidge jumped out of the way just as a white car plowed into the spot where he was standing.
KTVU, a Fox owned-and-operated station, reported that Savidge jumped to his right, enabling him to completely avoid the oncoming car.
"It happened in a split second," Vaughan said. "I'm just thankful he jumped the right way."
"I am grateful to be ok, that's all I can say," an emotional Savidge said in his next live shot. He hugged Vaughan and thanked him for the warning, then said "I just want to tell my wife I'm OK."
My heart's racing like crazy! Almost got hit by a car live on air, but I'm OK-Thanks everyone for your concern @KTVU pic.twitter.com/dQi7K2kKzD

— Alex Savidge (@AlexSavidgeKTVU) March 8, 2016
The station said that it appeared a white sedan crashed and careened toward Savidge and Vaughan when the driver hit the gas instead of applying the brakes.