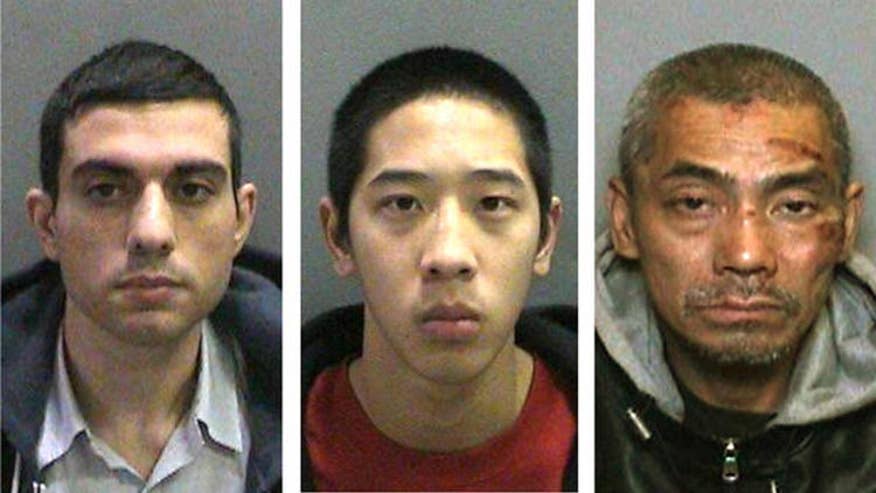 SANTA ANA, Calif. – Two inmates arrested in San Francisco after breaking out of jail more than a week ago are back in custody in Southern California.
Sheriff's officials said 20-year-old Jonathan Tieu and 37-year-old Hossein Nayeri were returned to Orange County early Sunday. The department posted video online of each man, wearing handcuffs and foot shackles, being escorted back into a lockup.
The two were arrested Saturday after a civilian reported seeing a parked white van that looked like the one authorities said the fugitives had stolen.
Authorities had been hunting for Tieu, Nayeri and a third inmate, 43-year-old Bac Duong, in Southern California since they pulled off a brazen jail escape on Jan. 22. Duong turned himself in on Friday.
Meatime, the union representing Orange County deputies says it complained nearly a year ago about how inmate counts were conducted at Men's Central Jail, where three inmates masterminded a brazen escape this month. All three are back in custody.
In a letter sent Friday to Sheriff Sandra Hutchens, the head of the Association of Orange County Deputy Sheriffs said union members told jail officials that department policy on inmate counts was not being followed. Union president Tom Dominguez wrote that his members received "push-back from jail management with the justification that 'This is the way we have always done it.'"
Dominguez called for the dismissal of Capt. Chris Wilson, who runs the jail.
Hutchens said in a statement Saturday that she wouldn't comment until an internal investigation is complete.
Early on Jan. 22, the trio sawed through a metal grate covering a plumbing tunnel, then crawled through piping to reach the jail's roof. There, they pushed aside barbed wire and used a rope made of bedsheets to rappel four stories to the ground.
Jailers did not realize the inmates were missing for 16 hours, an embarrassment for Hutchens that has prompted changes in jail operations, but no firings.
The intensive search and investigation produced no tangible results for days and then, on Thursday, authorities arrested a woman who taught English at the jail. Nooshafarin Ravaghi, a 44-year-old children's book author, gave Nayeri a paper copy of a Google Earth map that showed an aerial view of the entire jail compound, sheriff's spokesman Lt. Jeff Hallock said.