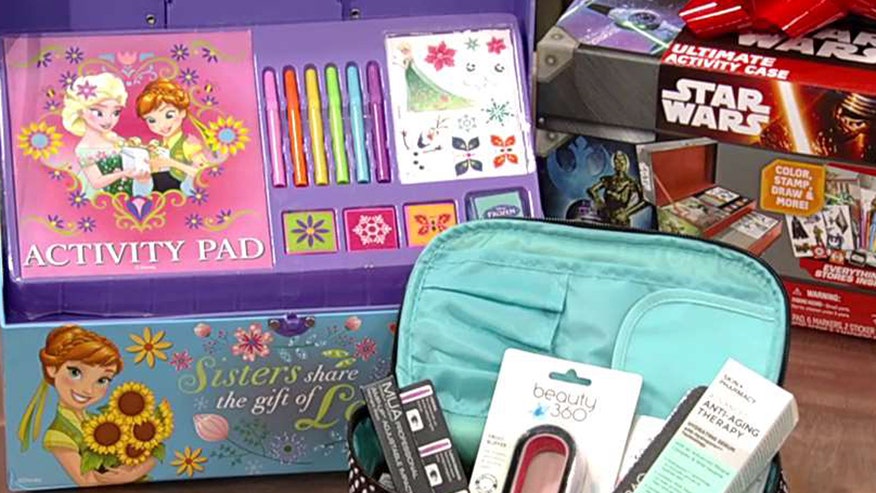 Time is running out to find that perfect gift for our little ones this year.
Since we parents know how quickly the thrill of plastic wears off for our kids, why not find some gifts that keep on giving all year long? And don't worry, the kiddies will still be thrilled with what they're opening on Christmas morning.
Here are some toy alternatives that you can buy and wrap in a snap by Friday:
Stocking Stuffers
No need to go out of your way to find random toys and trinkets for the stocking. If you're going grocery shopping, just swing down the toiletry aisle for bubble bath, toothbrushes, toothpaste, and maybe some lip balm. Clementines are in season and they fill out those oversized socks nicely. And what kid isn't happy with fruit bars and chocolate? Stockings — done!
Crazy in the Kitchen
If you have an aspiring chef at home, pick up a few things for him or her there. Why buy an EZ Bake Oven when you can use your actual kitchen? Grab a wooden spoon and ingredients for a recipe you can cook together. It's a great gift and a wonderful way to spend time quality time with your children.
Plant Away
Stores will be eager to get rid of their greenery this week. Pick up a miniature evergreen that your child can keep in his room. Look for other plants that children can care for inside and then plant outside when springtime rolls around. It's a gift and a project to keep them busy for months to come.
Wrap Up Necessities
Does Sam need new sheets? Does Sarah need an umbrella? Why not get the most fun version of their necessities you can find, wrap them and put them under the tree. Same goes for craft supplies. Need replacement markers, Play-Doh, crayons, doodle pads? Let Santa bring them this year.
'Gift' an Experience
The best gift is creating memories. Tap into your child's interests. Enroll your little ball of energy in a gymnastics class. Sign your culinary whiz up for a kids' cooking class. Give your baseball fan a day at the batting cage. Think beyond "things" and find ways to spend time with your kids outside of your four walls.
Get Camera Ready
When you swing by the drugstore this week, pick up a couple of disposable cameras. Your children will love it. And just imagine what it will be like for your child to wait a week or two to see the fruits of their labor. (Another surprise.)
Open or Contribute to a 529
Let's face it – up until a certain age, kids are more excited about boxes and bubble wrap than the actual toy. So why not wrap a box of bubble wrap and put the money you would have spent into a 529-college savings account.
It takes 30 minutes or less to set up. You can do a one-time donation or set up for a monthly withdrawal from your bank account. The best part: it's a gift for Mom and Dad, too. It helps at tax time. And you can feel better knowing you're contributing to your child's future. Maybe you can convince the grandparents to give to it instead of buying yet another holiday sweater.
More from Lifezette.com:
Gift Wrap Ideas at Your Fingertips
Chris Tomlin: Faith, Music, Humility
Real Service Dogs vs. the Fake Ones