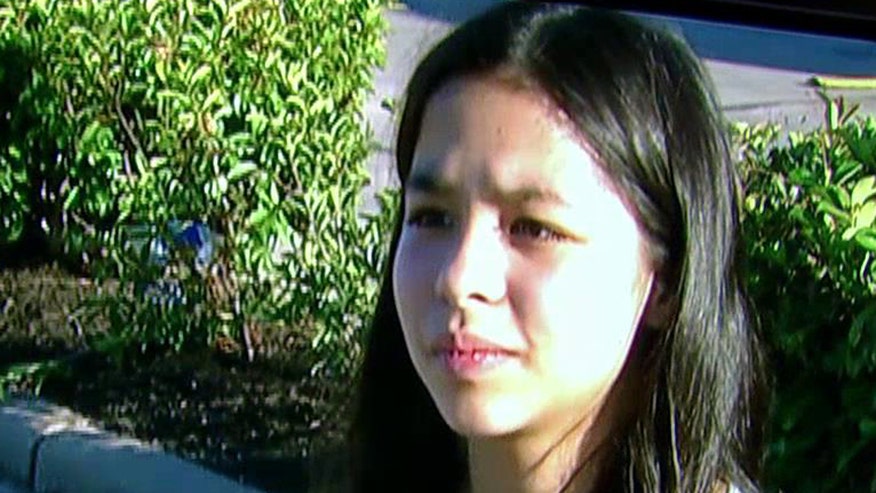 A Texas junior high school teacher is under fire after allegedly giving a writing assignment to students that asked them to deny the existence of God.
The family of Jordan Wooley, a seventh-grader at West Memorial Junior High School in Katy, complained about the assignment to the school district. The Katy Independent School District apologized for the assignment on Wednesday, but couldn't confirm the allegations the teacher told students to deny the existence of God.
Wooley "felt her faith was being questioned and she felt justified in defending it and I support that," Superintendent Alton L. Frailey said at a news conference. "However, the assertion that the teacher tried to force her to deny her God or threatened her God, that was not corroborated."
Frailey said the assignment was a mistake and would not be used again.
The assignment asked students to say whether something was factual, a commonplace assertion or an opinion. The district said in a statement that it was intended to encourage critical thinking skills, not question any student's religious beliefs.
However, Jordan said the teacher told students that God was a myth.
"I felt like this was really wrong and I didn't feel like it was fair for my faith and my religion to have anything to do with what I'm learning about in school," she told the Katy school board Monday during its monthly meeting.
Wooley said the teacher told anyone who said God was a fact or an opinion "was wrong and that God is only a myth. She started ... telling kids that they were completely wrong and when kids would argue, she would (tell) them we would get in trouble."
Wooley told KHOU she wrote that God's existence was both a fact and opinion. She said the teacher told her both of her answers were wrong and that she had to come to the conclusion that God wasn't real.
Chantel Wooley, the girl's mother, was in disbelief.
"That kid was literally graded against her faith in god in a classroom so who would want to be known," she told KHOU.
District officials interviewed several students besides the girl who spoke out, but couldn't confirm her claims the teacher was trying to force students to question their faith, Frailey said.
The district said in its statement that the teacher did not use the word "myth" to describe God and that the instructor "welcomed all students' views."
The teacher's name has not been released. The district said "appropriate personnel action will be taken" but did not elaborate.
"The teacher is distraught by this incident, as some commentary has gone as far as to vilify her without knowing her, her Christian faith, or the context of the classroom activity," the district said. "Still, this does not excuse the fact that this ungraded activity was ill-conceived and because of that, its intent had been misconstrued."
The Associated Press contributed to this report.