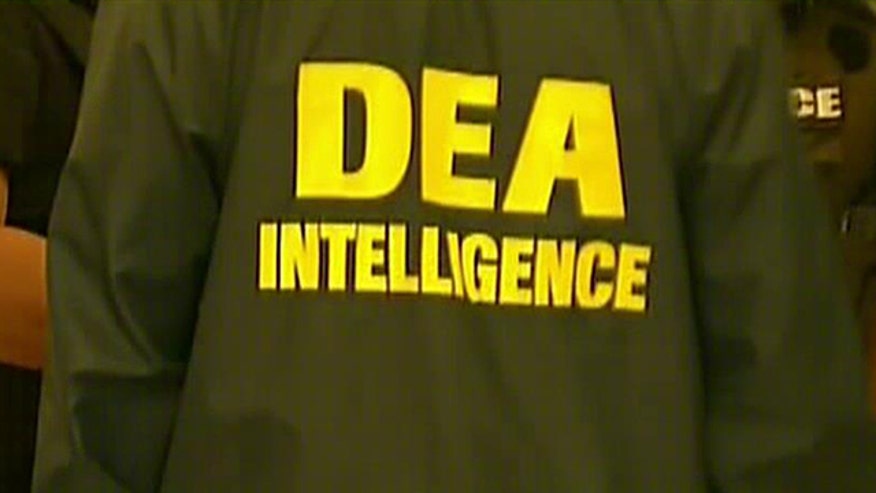 More than a dozen senior Drug Enforcement Administration agents who fought in Iraq and Afghanistan as military reservists claim their bosses within the law enforcement agency ridiculed their service, assigned them to jobs their war injuries made especially difficult -- and, in one case, allegedly planted a cellphone in an agent's car to track his movements and record conversations.
The agents, who have filed a formal complaint with a federal watchdog agency over allegations that date back more than a decade, believe they were singled out from other veterans within the agency because their duties caused staffing problems, according to interviews and court documents obtained by Fox News. If their claims are true, the agency's treatment of the reservists is in violation of President Obama's direct order to federal agencies that unfair treatment of veterans will not be tolerated.
"They called me a poisonous pansy," DEA Special Agent Mark Coast told Fox News in an interview from his San Diego home. A Marine reservist, Coast was called to active duty in 2003 and served in Iraq, where he was awarded a Purple Heart.
"They called me a poisonous pansy."

- DEA Special Agent Mark Coast
Shortly after returning home, Coast says he had a disturbing conversation with his civilian boss.
"He asked me, 'So, how did the war treat you?'" Coast recalled. "I thought it was a strange question. And I said, 'Well, it was pretty hard'....and he basically said, 'Well, you know, if you had gotten out of the reserves this wouldn't have happened. You pretty much deserve everything you get.'"
Coast was again called to active duty in 2004. While under assault in Fallujah, Coast said he and his brother, also a DEA agent and reservist, were belittled for their military service by a DEA superior who complained about them "playing Army" and said his formal internal complaints about mistreatment "wouldn't matter."
In the years that followed, Coast says managers reassigned him to positions knowing that his war injuries would impair his job performance with the new tasks. He also says superiors went out of their way to undercut his promotion applications because of his military time away from the agency. Because of his history of battling the DEA bureaucracy, Coast informally became the point man for the problems of other reservists throughout the agency.
Agents told Fox News they think the discrimination happens because superiors believe a loss of manpower jeopardizes their own promotions and performance bonuses. Some 16 agents and current or former reservists, represented by a Washington-based attorney, have filed a formal complaint -- officially called an appeal -- with the Merit Services Protection Board. The MSPB describes itself as "an independent, quasi-judicial agency in the Executive branch that serves as the guardian of federal merit systems."
Coast's claims mirror those of other DEA agents in field offices across the country and at outposts around the world.
Special Agent John Stark, an Army guardsman in Arizona, said his DEA group supervisor told him he wasn't "pulling his weight" because of his military obligations.
Special Agent John Ciccarelli of Florida, an Army Ranger, recalled a 2005 discussion with his boss, who he says asked him about his "vacation" in Iraq and warned him that "playing soldier" would hurt his DEA career. Ciccarelli, who was later rejected for promotion, was told the DEA was his "real job."
Andrew Pappas, retired Marine Corps lieutenant colonel and a DEA agent now based in Honduras, said that during an earlier posting in California, he sought leave for annual reservist training. He said his boss relented only after Pappas threatened a lawsuit. But soon after, he was transferred to a regional office 90 minutes further away from his home. Pappas claims he was told the move was "freeway therapy" for having fulfilled his reservist obligations.
Andrew Sorrells, like other complainants, says the agency's bias against reservists started his first day on the job. Now serving as a special agent in Thailand, Sorrells told Fox News his DEA career started at a pay scale lower than his 14 years' of military experience warranted.
On Memorial Day, just days after the agents filed their appeal with the MSPB, Sorrells says he received an email from Stephen Tomaski, assistant special agent in charge of the San Diego field office, with the subject line, "You are a coward..." The main body of the message only read, "I do not know how to phrase it any other way. Do NOT ever contact me again."
A message left on Tomaski's cellphone went unreturned, and a person answering the main number for the DEA's San Diego office said Tomaski has retired.
Officials at DEA headquarters outside Washington declined to answer Fox News' questions about the allegations, citing the ongoing litigation.
It is the latest embarrassment for the DEA, which earlier this year saw its administrator resign after giving widely ridiculed testimony on Capitol Hill about an unrelated scandal involving South American prostitutes. The new allegations have caught the attention of senior leaders at the influential Veterans of Foreign Wars, whose 1.9 million members often have the ear of Washington lawmakers.
"Based on the allegations that were presented to me, I've never seen a more egregious set of facts that are presented in this case," John Muckelbauer, VFW's general counsel, told Fox.
Perhaps the most shocking claim comes from Supervisory Special Agent Darek Kitlinski, a lieutenant commander in the Coast Guard Reserves. Kitlinski claims he found a DEA-issued Blackberry phone clumsily concealed under the hood of his SUV last September.
"I saw a blinking light through the windshield," Kitlinski told Fox. "A very, very, faint blinking light."
Earlier that day Kitlinski and his wife, who also works for the DEA, offered testimony in a deposition where he accused the DEA of stonewalling an internal transfer tied to his reservist responsibilities. Kitlinski believes the phone was planted to track their movements or eavesdrop on their conversations. The DEA has demanded the phone's return, but Kitlinski has given it to his attorney, Kevin Byrnes, for safekeeping.
"I don't know how it got there," Byrnes said. "I know that the DEA has never really, from my position, investigated that fact. They've simply asserted they get to get the phone back."
Byrnes says he's unaware of any warrant or legal order that would have allowed the DEA to surreptitiously place the phone in his client's car. And that he's not going to turn it over to the agency without judicial consent.