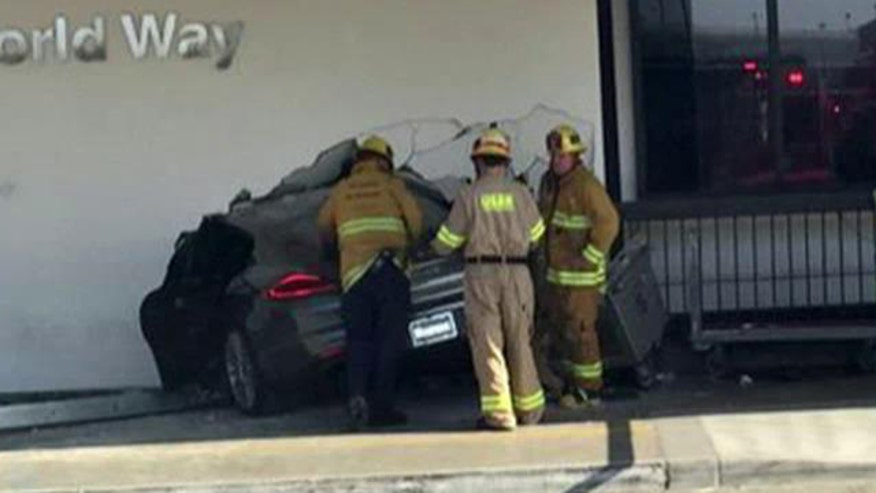 A nine-year-old girl was critically injured Sunday afternoon after a car crashed into a terminal building at Los Angeles International Airport.
The crash happened shortly before 5 p.m. local time on the upper level of LAX's Terminal 7, where departing passengers are dropped off. Los Angeles Fire Department spokesman Brian Humphrey told the Associated Press the sport sedan struck the girl on the sidewalk before crashing into a utility room above a stairwell.
The car's driver and a passenger were also injured in the crash. Humphrey said their injuries were non-life-threatening, but did not elaborate further.
"It's safe to say [the girl] is fighting for her life," Humphrey told the Los Angeles Times.
The paper, citing a police spokesman, said the driver was a 67-year-old man. LAPD Sgt. Roy Ceja told the paper that the driver did not appear to be intoxicated and did not have any known medical issues.
"All indications say he probably mistook the gas pedal for the brake," said Ceja, who called the crash an accident. The names of the injured were not immediately available.
No flights were affected by the incident, though several traffic lanes near the terminal were closed for approximately two hours as emergency personnel responded the scene.
The Associated Press contributed to this report.
Click for more from MyFoxLA.com.
Click for more from the Los Angeles Times.