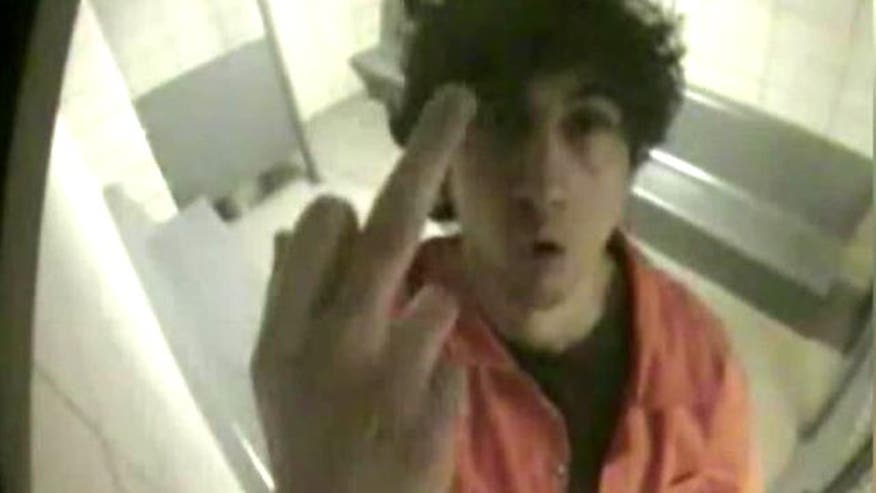 Jurors in the trial of Boston Marathon bomber Dzhokhar Tsarnaev Tuesday were shown a picture of the man flashing a middle finger at a video camera from his jail cell about three months after the bombing that killed three and injured 260.
"This is Dzhokhar Tsarnaev, unconcerned, unrepentant and unchanged," Assistant U.S. Attorney Nadine Pellegrini said. "He had one more message to send."
The government then began calling to the stand what is expected to be a long line of witnesses who lost legs or loved ones in the April 15, 2013, bombing that killed three people and wounded more than 260. An MIT police officer was shot to death days later as Tsarnaev and his older brother, Tamerlan, tried to get away.
The first witness was Celeste Corcoran, who made her way to the stand on two artificial limbs. She told the jury that the blast hurled her into the air and left her in such excruciating pain that she wanted to die.
"I remember hearing just blood-curdling screams. I just remember looking around, just seeing blood everywhere, sort of like debris falling from the sky," Corcoran said.
Corcoran said her husband, Kevin, immediately began applying pressure to her legs, then tied tourniquets using his belt and a belt he got from another man.
"I just remember thinking how awful this was and how this had to stop. This couldn't be real, couldn't be real," she said.
Corcoran said she quickly regained her resolve to live when she thought of her family.
"Then I was saying, `Hell, no, I can't die,"' she said. "`I have to be there for my kids. I have to be there for my husband. I have too much living to do. Don't let this be the end. How can this be the end?"'
Several jurors have wiped away tears as the father of marathon bombing victim Krystle Campbell described at trial how he called her "princess."
He says: "Krystle was the light of my life, every father's dream."
He wiped his eyes with a handkerchief as he testified, his voice growing hoarse as he said she "wasn't really a girly girl" and preferred baseball over more feminine things.
He said he saw her every day, sometimes twice a day and that the family was very close.
At the hospital, after doctors led them to her room, he says he passed out when he saw it wasn't her. When he woke up, he knew Krystle was gone.
William Campbell III, whose 29-year-old sister, Krystle Campbell, died in the bombing, testified that because of a case of mistaken identity, a nurse initially told the family that the young woman was in surgery and would survive. Hours later, they learned from a homicide detective that Krystle had died almost instantly.
"It wasn't real at first. ... This can't be true, this isn't real," her brother said. "I just eventually had to accept the facts." He added: "It's still tough. Every day, we still think about her."
Slouching in his seat at the defense table as usual, Tsarnaev stared straight ahead and showed no reaction during the proceedings. He did not appear to look at any of the witnesses.
Tsarnaev was convicted earlier this month of all 30 charges against him during the trial's guilt-or-innocence phase.
His lawyers, who will make the case for mercy once the prosecution has put on its witnesses, are expected to portray Tamerlan as the mastermind of the bombing. They say Tsarnaev was a 19-year-old who fell under the evil influence of his domineering brother.
The 12-member jury must be unanimous for Tsarnaev to receive a death sentence; otherwise, he will automatically get life behind bars.
Prosecutors contend Tsarnaev was a full partner with his brother and deserves the ultimate punishment.
With enlarged photographs of the victims behind her in the courtroom, Pellegrini told the jury: "They were all beautiful, and they're all now gone." She described the killings as "unbearable, indescribable, inexcusable and senseless."
"You know how they died. Now you need to know how they lived," the prosecutor said. "You need to know and to understand why their lives mattered."
About a dozen people protesting against the death penalty demonstrated outside the federal courthouse Tuesday morning.
Earlier this week, the parents of the youngest of those killed, 8-year-old Martin Richard, urged prosecutors in a front-page letter in The Boston Globe to take the death penalty off the table.
Also, Jessica Kensky and Patrick Downes, a newlywed couple severely wounded in the bombing, said life in prison would be the best outcome to assure that Tsarnaev "disappears from our collective consciousness as soon as possible."
The Associated Press contributed to this report