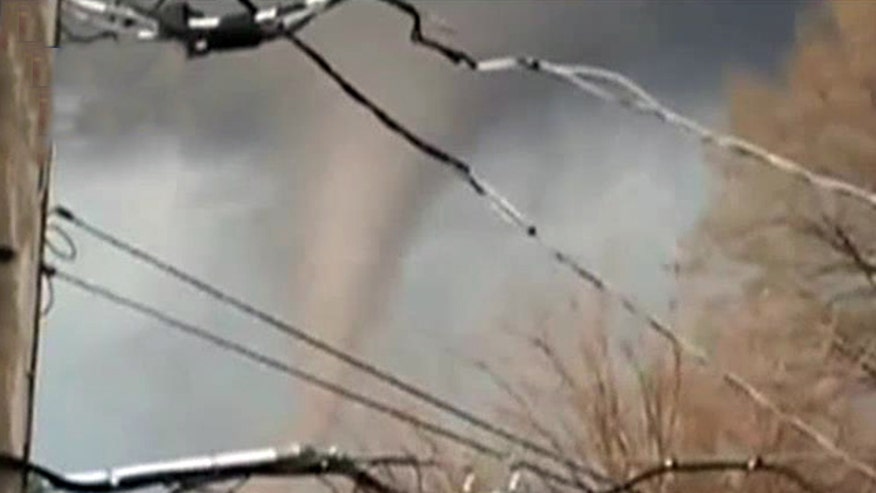 Two people were killed and about a dozen others were injured after a tornado tore through a tiny Illinois town, part of a storm system that pummeled large parts of the central U.S. and was forecast to bring severe storms to the East Coast Friday.
The twister hit the ground in Fairdale Thursday evening and destroyed 15 to 20 homes, DeKalb County Sheriff Roger Scott said early Friday.
DeKalb coroner Dennis Miller said a 67-year-old woman was found dead inside her home. The second person was not identified. About a dozen others were taken to area hospitals for injuries. Fairdale, 80 miles northwest of Chicago, is home to about 150 residents.
Matthew Knott, of the Rockford Fire Department, told The Associated Press every building in Fairdale "sustained damage of some sort."
The town's power was out early Friday, and everyone had been evacuated. A shelter was set up at a nearby high school.The Red Cross and Salvation Army were assisting evacuees.
Authorities said that they were fairly confident there were no more victims among the debris but that they would be working Friday to account for every single resident, including those who may have left town before the storm.
The National Weather Service said Friday at least two tornadoes swept through six north-central Illinois counties.
Thursday's storm also dumped snow in Michigan's Upper Peninsula and swept across the Ohio Valley overnight. The system headed into the Appalachian region Friday morning with the potential for thunderstorms.
The tornado severely damaged or destroyed 20 homes in Ogle County, Sheriff Brian Van Vickle said in a news conference. But no deaths or significant injuries were reported. Ogle County is adjacent to DeKalb County.
Van Vickle said 12 people were trapped in the basement of Grubsteakers, a Rochelle restaurant that collapsed during the storm.
One of those rescued from the restaurant, Raymond Kramer, 81, told Chicago's WLS-TV that he was trapped with 11 others in the storm cellar for 90 minutes. They were freed only after emergency crews removed debris that had fallen over them. He said none of those rescued was injured.
"No sooner did we get down there, when it hit the building and laid a whole metal wall on top of the doors where we went into the storm cellar," Kramer said. "When the tornado hit, we all got a dust bath. Everyone in there got shattered with dust and debris falling out of the rafters."
Three damage survey teams will assess the areas tomorrow to determine the exact location and magnitude of the tornadoes.
The severe weather, the region's first widespread bout, forced the cancellation of more than 850 flights at Chicago's O'Hare International Airport and dozens of others at the city's Midway International Airport.
The National Weather Service's "enhanced risk" area had stretched from northeast Texas to Michigan, Wisconsin and across the upper Midwest. Forecasters say Philadelphia, Washington and other parts of the Atlantic coast could see the same weather patterns Friday, including Augusta, Georgia, where the Masters golf tournament is taking place through the weekend.
A severe thunderstorm that brought high winds and rain through East Texas on Thursday night damaged the roof of a nursing home in Longview, causing its evacuation. No injuries were immediately reported. Thousands were without power in the region.
Earlier Thursday, the Davenport, Iowa, office of the Weather Service said it had received multiple reports of tornadoes in Scott and Clinton counties in the far eastern part of the state. At least one tornado had touched down earlier Thursday evening in rural Donahue, about 15 miles north of Davenport. The Weather Service had no reports of injuries from those storms.
Minor injuries were reported Thursday in central Missouri when storms toppled trees, utility poles and billboards.
The Associated Press contributed to this report.