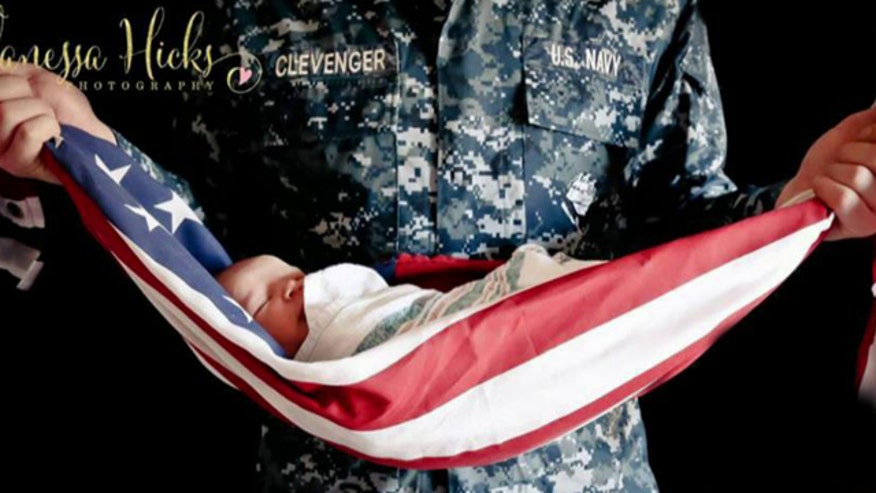 A picture of a newborn being cradled in Old Glory has put a Virginia photographer in a flag flap over whether the image is patriotic or disgraceful.
Vanessa Hicks, 29, has been taking family photos as part of her small business for about a year, and when two new parents with ties to the military approached her about snapping a picture of their baby, they searched for something patriotic. Searching Pinterest, they came across photos of children and the American flag, and knew they had the right image.
The photo shows the baby being cradled in the flag, which is held by the boy's father, Rodney Clevenger, a sailor.
Hicks, as is her custom with professional photos that she takes, posted the image to her business's Facebook page on Sunday.
"In no way, shape or form was I trying to do anything but take a picture for a family," Hicks told FoxNews.com on Thursday, adding that she's taken photos that have respectfully displayed the American flag before. "I was doing my job. I didn't put it out there for the media or anyone to judge it."
US Soldier Proposes to Girlfriend in Boston Logan Airport
But a Facebook group that dishes out criticism of photo mistakes – and believes the flag was used disrespectfully in Hicks' image -- didn't see things that way.
"This flag is a symbol of everything my son died for many years ago. It was of the utmost honor to have a flag laid upon your coffin as my son did. That honor is taken away when disrespectful photographers throw our flag code out the window," says a message appearing on the page of "You Call Yourself a Photographer?" "Mr. Clevenger, you have disgraced our fallen soldiers as well by disobeying that code."
The next day, Hicks' Facebook page and business were overrun by criticism of the image. She said some of the vitriol, which she described as cyberbullying, suggested that she should go kill herself.
But almost just as quickly, supporters of the image have come to Hicks' defense.
"I think it went viral because so many people didn't see it as a negative thing," Hicks said, adding that the criticism has likely "backfired" on the detractors who are responsible for giving the photo the initial attention.
Over the past couple of days, Hicks has fielded media requests from across the nation, and has found business booming. She's even received requests for the print from people who want to hang it in their home and office, and says she's donating 15 percent of the proceeds from sales – as well as fees from clients who reach out to her because of the flag photo – to the United Service Organization.
Hicks, who has been taking photos for eight years and who lives in Virginia Beach, Va., says she plans to continue taking family photos, working with clients to take the pictures they want to take, whether they involve the American flag or not.
"I continue to run my business as I do," she said. "The reason I'm in this industry is because of preserving images."
FoxNews.com's Karl de Vries contributed to this report.