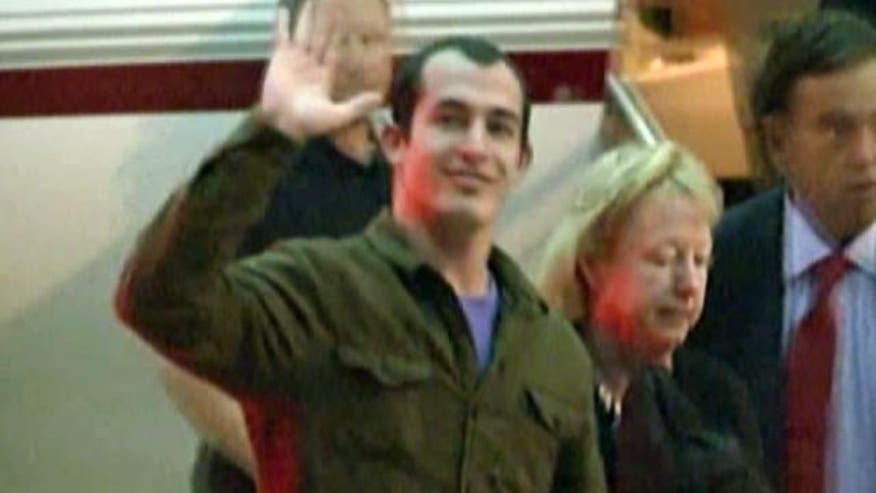 Marine Sgt. Andrew Tahmooressi is back on American soil after languishing 214 days in a Mexican prison. He is now hoping for an opportunity to "decompress" while getting much-needed treatment for his diagnosed post-traumatic stress disorder.
Family spokesman Jon Franks said the PTSD treatment would be the first order of business for Tahmooressi now that he has returned to the U.S. The Marine, who served two tours of duty in Afghanistan, landed at a South Florida airport about 6 a.m. Saturday. He flew home on a private plane with his mother and supporters, including former New Mexico Gov. Bill Richardson, following his release Friday.
"It's set up," Franks said. "I think he's going to bounce back pretty quickly."
The spokesman said at a news conference in Weston, a Fort Lauderdale suburb, that Tahmooressi and his mother were spending time together trying to figure out what's next. "They need some time to decompress," he said. He said the marine also wants to grab some dinner at Miami's famous eatery Joe's Stone Crab on South Beach.
Tahmooressi was diagnosed with PTSD on March 12 in San Diego. He then attended an orientation on March 20. Eleven days later Tahmooressi said he made an innocent mistake that evening on his way to dinner when he crossed into Tijuana with three weapons in his truck.
Tahmooressi boarded the private jet for Florida shortly after 9 p.m., after a strong diplomatic push appeared to help convince a judge to release the former Marine on humanitarian grounds.
After reviewing the ruling, Tahmooressi family spokesman Jonathan Franks said the judge acted on a recommendation from the PGR, the Mexican Attorney General's Office. In that motion, the prosecutor "essentially withdrew the charges," Franks said. Moments later, the trial judge issued an acquittal in Andrew's case, calling for an "immediate and absolute release."
His release comes after a lengthy, closed trial and a Congressional hearing in October highly critical of Obama Administration efforts to secure his release and Mexico's refusal to let him go.
While his defense rested its case several weeks ago, Tahmooressi's release came only after a strong diplomatic push from Richardson of New Mexico and Reps. Ed Royce (R-CA) and Matt Salmon (R-AZ). Speaking by phone on his way to board a plane with Tahmooressi, Richardson said the trio, along with talk show host Montel Williams, met with Mexico's Attorney General and Ambassador to the US, advocating for his liberation.
"The totality of diplomacy, the judicial process, the legal strategy and the importance of the American-Mexican relationship resulted in Andrew's release," Richardson said. "And now we have this great outcome. Andrew's coming home."
As late as Friday morning, the family spokesman told Fox News the judge was not expected to make a decision for at least another week. While the spokesman expressed optimism, the there was no certainty that the judge would rule in Tahmooressi's favor and could have found him guilty of firearms possession. His attorney had argued for his release based on humanitarian grounds and on a violation of his civil rights.
Upon release, Mexican officials processed him quickly through immigration, Richardson said.
"He was happy. He was smiling. He's looking good. His spirits are high," Richardson told Fox News, adding that Tahmooressi said he wants a steak dinner and stone crabs.
But Richardson said Tahmooressi still needs to receive PTSD treatment, something that wasn't available in Mexican prison-- a key argument put forth by defense attorney Fernando Benitez.
The three officials, along with Tahmooressi's mother Jill, have spent the last week in Tijuana pressing officials for his release.
WATCH: Greta Van Susteren asks: What took so long to free Marine?
Speaking by phone on his way to board a plane with Tahmooressi, Richardson said the trio, along with talk show host Montel Williams, met with Mexico's Attorney General and Ambassador to the US, advocating for his liberation.
FoxNews.com covered Tahmooressi's seven-month ordeal extensively, with numerous reports from the Tijuana court where hearings were held, interviews with the jailed Marine by telephone and several guest opinion columns by military, medical and legal experts critical of his treatment in Mexico.
Fox News Channel's Greta Van Susteran also covered the case extensively, even driving the poorly-marked and confusing route Tahmooressi took the night he was detained and going to the prison where he was held. But other national media outlets largely ignored the plight of Tahmooressi, and the White House was heavily criticized for not doing more to secure his release despite the fact that Tahmooressi served two tours of duty in Afghanistan and suffered from Post-Traumatic Stress Disorder.
Benitez said that Tahmooressi's condition was continuing to deteriorate and Mexico didn't have the expertise or facilities to treat his PTSD, which he suffered after two tours in Afghanistan.
The defense attorney also alleged that customs agents held Tahmooerssi illegally, denying him access to a translator, lawyer and consular access.
But after the seven-month ordeal, it was the PTSD argument that ultimately pressured the judge to acquit Tahmooressi.
"The judicial process of Mexico made the right choice," Richardson said. "The humanitarian release was justified based on PTSD, something that the Mexican judicial and medical system is not as conscious of as the United States