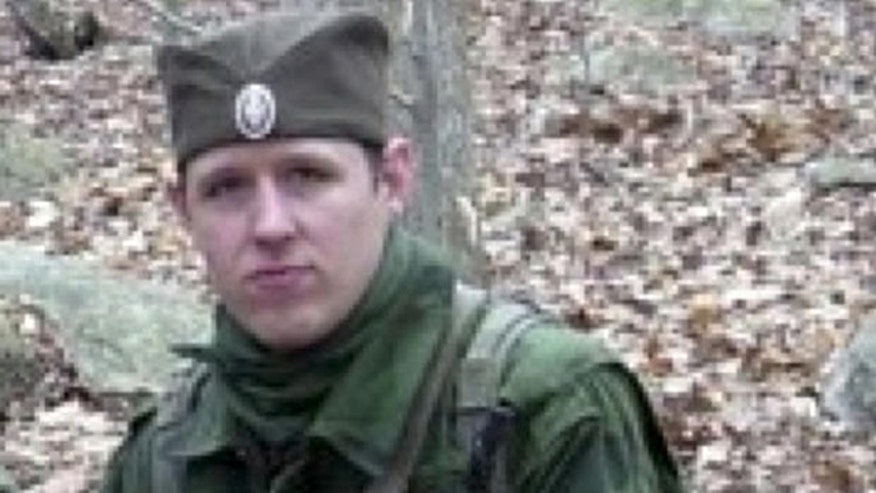 Stroudsburg, Pa. – When survivalist and alleged cop killer Eric Frein's photo appeared in the local paper as an ongoing manhunt unfolded in the rugged terrain of northeastern Pennsylvania, something jogged Lawrence Squeri's memory.
The name and face were dimly familiar to the retired professor, who taught Russian history to thousands of students during his longtime career at East Stroudsburg University. Then it clicked: The man police believe gunned down a State Trooper and wounded another had indeed sat in his class nearly a decade ago, attending for the beginning of a semester before dropping out and failing the course.
After the Sept. 12 murder outside a police barracks in the Poconos, Squeri said he scanned all the names in his old grade books looking to confirm the suspect had been among his students.
"I looked through all my books and there he was," said Squeri, noting that Frein, a history major from nearby Canadensis, withdrew from his course in October 2005. "I vaguely remember him."
[pullquote]
In Frein's mind, his escape into the dense forest is "the ultimate survival story," Squeri speculated, while sipping coffee inside the Starbuck's on Main Street in Stroudsburg.
"Instead of playing make-believe, he decided to have a real survival drama," Squeri told FoxNews.com. "He's playing out his fantasy."
Authorities are interested in Frein's aborted academic career, too. State police seized a computer flash drive and paperwork from several departments within the university as part of their investigation of Frein, according to documents in support of a search warrant obtained by The Times-Tribune. It's not known what, if anything, authorities might have uncovered in the documents, which included lists of Frein's class schedules, extracurricular activities and student advisors.
"Through my training and experience with the Pennsylvania State Police over the previous 10 years, I am aware that university records are valuable investigative tools to discern several analytical aspects of a suspect's tenure at a facility," Trooper William Skotleski wrote in the Sept. 24 search warrant request and affidavit obtained by the newspaper.
Squeri and others said Frein attended the university for one semester in 2005 and then returned in 2011 for two semesters, changing his major from history to chemistry. He never graduated from the university.
Frein, who has been seen in photos dressed in Serbian uniform, is an expert marksman obsessed with Eastern European war reenactments.
[image]
"You see a picture of him in this uniform of a Serbian soldier," Squeri said. "I can see why he took my course. He clearly had a fascination with Eastern Europe."
Authorities, including the state police, FBI and U.S. Marshals, believe they have Frein contained in a 5-mile radius. On Sept. 18, six days after the deadly ambush, Frein reportedly tried called his parent's home from his cellphone, which was tracked to Monroe County.
Frein is charged with opening fire outside the rural Blooming Grove state police barracks, killing Cpl. Bryon Dickson and seriously injuring Trooper Alex Douglass in an unprovoked attack. Additional charges have also been filed following the discovery of explosives allegedly set by Frein.
Lt. Col. George Bivens on Wednesday read pages from a journal found in the woods, in which Frein allegedly described shooting the state troopers. They also detailed campsites where Frein is believed to have lain low, cooking over small fires even as hundreds of heavily armed police hunted him. Police have found pipe bomb booby traps and a gun resting against a tree, but have only had a handful of unconfirmed sightings of Frein.
"Got a shot around 11 p.m. and took it," Freins wrote on papers found by police. "He [Dickson] dropped. I was surprised at how quick."
Bivens, who read excerpts of the notes to reporters, says Frein wrote he tried to make his getaway in a Jeep, but ran it into a swamp and took off on foot. He says Frein called the botched getaway a "disaster."
"I can only describe his actions as pure evil," Bivens said.
Cristina Corbin is a Fox News reporter based in New York. Follow her on Twitter @CristinaCorbin.