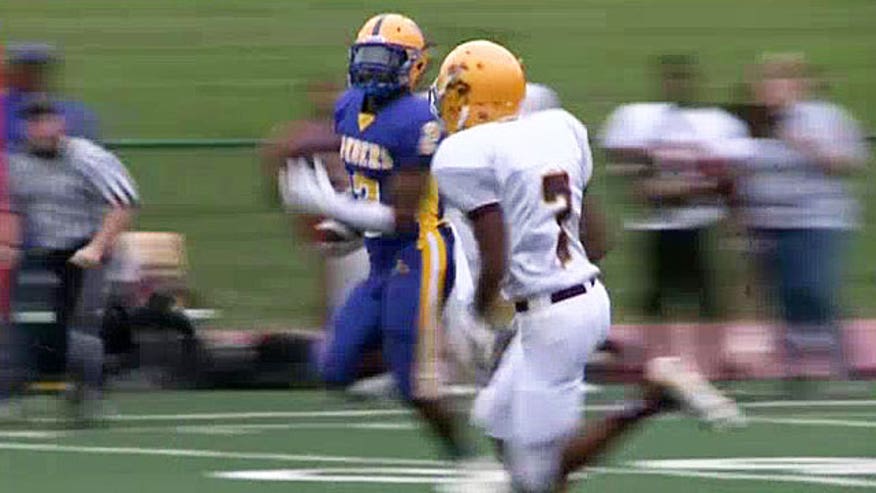 SAYREVILLE, N.J. – The football season at a storied New Jersey high school has been canceled amid "significant and serious" allegations of harassment, intimidation and bullying.
Sayreville Schools Superintendent Rich Labbe made the announcement late Monday during a meeting with the parents of football players. The development follows word of a criminal investigation by the county prosecutor, which Labbe said he could not discuss. Labbe says Prosecutor Andrew Carey told him there is credible evidence to indicate pervasive, wide-scale and generally accepted forms of harassment, intimidation and bullying within the program.
"We can set the standard right now for all kids, for all school districts in Middlesex County, in the state and in the nation that we are not going to stand around and allow kids to do this to one another," Labbe said. "We are going to start holding our students responsible for doing the right thing and reporting these kinds of behaviors."
[pullquote]
Sayreville's team has won three sectional titles over the past four years and is widely regarded as one of the state's top public school football programs. The Bombers string of 20 consecutive playoff appearances will now come to an end, The Home News Tribune reports.
The district canceled and forfeited a game that was scheduled last Friday. A criminal investigation is ongoing and details will not be released until its completed, authorities said.
Labbe said he could not discuss the future of the coaching staff, some of whom may face criminal charges. He announced last week that prosecutors were investigations allegations of a "significant and serious nature" within the program. The alleged victims and perpetrators have not been identified, he said.
"Right now our focus is on several things," Labbe said. "First and foremost, our focus is on the victims involved in this case. We want them and their parents to know that we are here for them and willing to do anything and everything to help so that they feel safe once again in our schools. Secondly, we do have to remember that this is a criminal investigation in which all parties are innocent until proven guilty. We also have to do everything in our power to cooperate with law enforcement, which primarily included staying out of their way."
Sayreville Athletics Director John Kohutanycz reportedly discussed the level of supervision school district officials provide for children before, during and after competitions and practices. Counselors have also been made available for any student who may have been impacted by the situation.
"We are standing up together as a Board of Education and as a district in saying no to bullying in Sayreville," Labbe said. "And we are inviting others to join us in our stance."
Also last week, an assistant football coach at the high school resigned amid allegations that he possessed steroids. Labbe said the allegations against the former defensive coordinator were the focus of a separate investigation and were not related to the cancellation of last week's game.
The Associated Press contributed to this report.