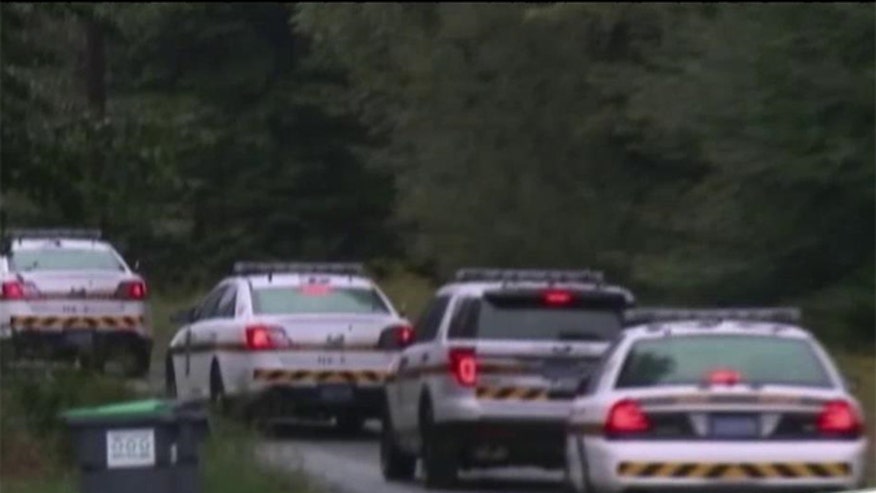 A funeral has been scheduled for a Pennsylvania state trooper who was killed during an ambush outside a police barracks Friday, while police are still hunting for the killer.
Cpl. Bryon K. Dickson II was killed and another trooper was critically wounded in the Friday night attack at the Blooming Grove barracks.
Dickson's funeral is Thursday morning at a Roman Catholic cathedral in Scranton.
The Marine Corps veteran joined the state police in 2007. He's survived by his wife of 10 years and two young sons.
Authorities said the wounded trooper, Alex Douglass, is conscious and talking for the first time since he underwent surgery.
State police spokesman Trooper Tom Kelly told The Associated Press that investigators hope to soon interview Douglass to get additional information on the attack.
Police have no motive for the late-night attack in rural northeatern Pennsylvania but say they are following up on leads.
Blooming Grove is a township of about 4,000 people about 35 miles east of Scranton. State police spokesman Trooper Adam Reed said the barracks cover most of Pike County, a primarily rural area that runs along the Delaware River and borders New Jersey and New York.
The troopers were ambushed around 10:50 p.m. Friday as one of them was leaving the barracks and another was arriving.
Kelly said in an emailed statement Sunday that police are getting a large number of tips, and some are "fantastic."
He said they are keeping details of the investigation quiet to preserve the integrity of the leads.
Investigators on Sunday returned to scour the woods across from the barracks where they were ambushed.
Troopers also set up a checkpoint near the site where they were stopping motorists to ask if they had seen anything that could help with the case, Kelly said.
The developments come as a nonprofit group offered a $50,000 reward for tips about Friday's deadly assault at the remote post in northeast Pennsylvania.
Reporters saw investigators walk into the dense forest surrounding the barracks in Blooming Grove around noon Sunday, though authorities suggested a day earlier that the suspect had already left the area.
Dickson, a seven-year veteran, had transferred to the region from the Philadelphia barracks several months ago.
Pennsylvania State Police Commissioner Frank Noonan said the "cowardly attack" was directed at state police and a "very dangerous, armed criminal" eluded quick capture.
"Our troopers were ... shot without warning and really had no chance to defend themselves," Noonan told reporters Saturday afternoon. "It has touched us to the core that such a thing could happen."
Pennsylvania Crime Stoppers, which posted the reward offer, asked anyone with information to call 800-4PA-TIPS or submit the tip online (http://bit.ly/1qOzY13).
Law enforcement officers from at least three states on Saturday searched state game lands surrounding the barracks in Pike County and beyond.
"There has been an exhaustive search conducted by hundreds of members of law enforcement," said Lt. Colonel George Bivens. "We have canvassed the wooded areas, neighborhoods. We are convinced this individual is no longer in that immediate area."
Police interviewed a man they called a "person of interest," but Noonan said authorities are talking to hundreds of people as part of the investigation. He stressed the man is not a suspect.
The slain trooper was married with two young sons. He was described by friends as devoted to work and family.
"They were a committed couple," Melissa Contorno, a friend of Dickson's wife, told The Times-Tribune. "They were raising a beautiful young family. It's not fair."
Memorial contributions can be made to the Cpl. Bryon K. Dickson II Memorial Fund c/o NBT Bank 1230 O'Neill Highway Dunmore, PA 18512.
The Associated Press contributed to this report.