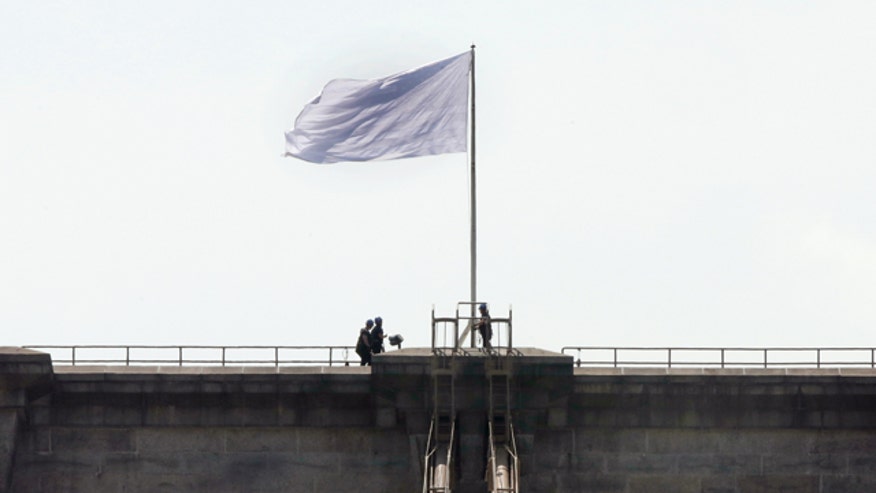 NYPD officials investigating how the two American flags on top of the Brooklyn Bridge were replaced with two white banners said Wednesday that the act was likely carried out by up to five intruders in two teams with knowledge of the bridge, The New York Post reported.
The teams' plan to evade police in four patrol cars included aluminum lasagna pans they used to cover the floodlights aimed at the flags during the switch at 3:29 a.m. Tuesday. The 11-by-20-foot white flags were first spotted at the break of dawn by a police officer, The Post reported.
"For someone to compromise that gate by going around it and continue to the top of the tower, have the right size cover to put over the light, there's some indication of some good deal of pre-operational planning, perhaps some indication that they have experience climbing in construction or in bridgework, or that they may have actually been up there before looking at the dimensions," John Miller, the deputy commissioner of intelligence, told the paper.
Either way, the incident is considered a major breach of security at one of the city's most iconic structures. The motive behind the flag swipe is unclear, but police do not believe there is a tie to terrorism. Still, the white flags have the faint appearance of stars and stripes, and could be a bleached or painted-over American flag.
Investigators are reviewing security footage for clues, police said. Police said that security camera footage showed several people walking on the pedestrian path at about 3:20 a.m., and then the light on the Brooklyn-side tower going out about 20 minutes later. About 12 minutes after that, the light on the Manhattan tower goes out, too, police said.
More than 120,000 vehicles, 4,000 pedestrians and 3,100 bicyclists cross the Brooklyn Bridge every day, according to the city's Department of Transportation, which maintains the bridge.
Police removed the white flags just before noon from poles on the stone supports that hold cables above the bridge.
The flags fly from above the pillars year-round and are replaced by DOT workers when they become frayed, police said. They are lit from the bottom by a lamp at the base of each tower at night.