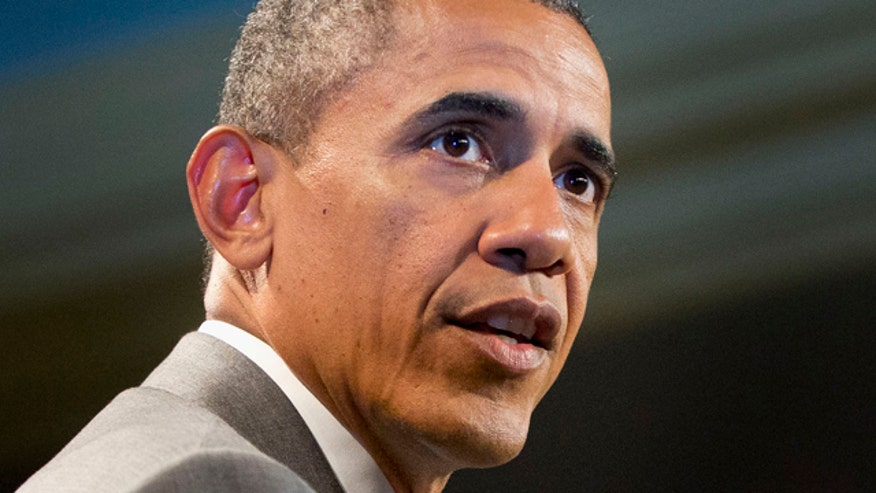 America's economy shrank at a drastic 2.9 percent annual rate in the first quarter, a far more alarming picture than ones painted in two previous government estimates -- including one that actually claimed modest growth.
The new figure released Wednesday by the Commerce Department is nearly three times lower than last month's preliminary estimate of 1 percent shrinkage -- at the time the worst three-month performance since 2009 -- and far greater than the 0.1 percent growth estimate in April. The sluggish economy's woes have been widely attributed to an unusually cold winter, but the latest figure -- the biggest difference between second and third estimates since 1976 -- could indicate far greater problems.
While economists attributed those bad numbers to weather and other factors, the jarring number, dubbed "an absolute disaster" by Wall Street blog ZeroHedge.com - is more difficult to dismiss.
Fox New contributor and economist Peter Morici said there were several factors that can help explain away the lousy performance. But he said there are reasons for concern.
"Businesses scaled back their investment, and that is a bit foreboding," said Morici. "They just don't believe the president's ballyhoo about this being a breakout year."
The number will be revised once more next month, when the Commerce Department's Bureau of Economic Analysis makes historical revisions. But the negative 2.9 percent figure is nearly three times lower than the preliminary estimate of 1 percent released last month, and marks the worst performance for a three-month period since 2009. A still earlier initial estimate, in April, predicted growth of .1 percent for the quarter. The wide gap between estimates was problematic to many economists.
"That disparity really calls into question the accuracy of the measurement," noted Morici.
The White House sought to downplay the precipitous drop, by looking ahead toward what it believes will be solid growth in the current quarter.
"First-quarter GDP was revised down today, largely reflecting a re-estimation of consumer spending on health care, which was substantially lower than originally reported, as well as exports, which were below the initial estimates," said Jason Furman, chairman of the Council of Economic Advisers, which counsels President Obama on the economy. "The GDP data can be volatile from quarter to quarter; a range of other data show a more positive picture for the first quarter, and more up-to-date indicators from April and May suggest that the economy is on track for a rebound in the second quarter."
But Republicans blamed Obama policies for holding up the economy.
"It's clear the White House doesn't know which way is up, just two months ago bragging that ObamaCare was helping the economy and now we're seeing the worst economic report since the low point of the recession in 2009," said RNC Chairman Reince Priebus. "The Republican House has sent Harry Reid and Democrats in the Senate dozens of bills to help jump-start our economy and it's time they stop standing in the way."
The economy grew at a 2.6 percent pace in the final three months of 2013, and some economists are optimistic that the poor performance in January, February and March was a mere blip. Data such as employment, manufacturing and services sectors point to a sharp acceleration in growth early in the second quarter. Macroeconomic Advisers recently forecast the economy will grow at a 3.6 percent annual rate in the April to June period, according to The Wall Street Journal.
Economists have previously estimated severe weather slashed as much as 1.5 percentage points from GDP growth in the first quarter, but even taking that into account would still leave a precipitous drop in performance.

Consumer spending, which accounts for more than two-thirds of U.S. economic activity, increased at a 1 percent rate. It was previously reported to have advanced at a 3.1 percent pace. Exports declined at a 8.9 percent rate, instead of 6 percent pace, resulting in a trade deficit that sliced off 1.53 percentage points from GDP growth. Weak export growth has been tied to frigid temperatures during the winter.

Businesses accumulated $45.9 billion worth of inventories, a bit less than the $49 billion estimated last month. Inventories subtracted 1.70 percentage points from first-quarter growth, but should be a boost to second-quarter growth.
Depsite the gloomy news, the Dow Jones Industrial Average rose modestly in morning trading.