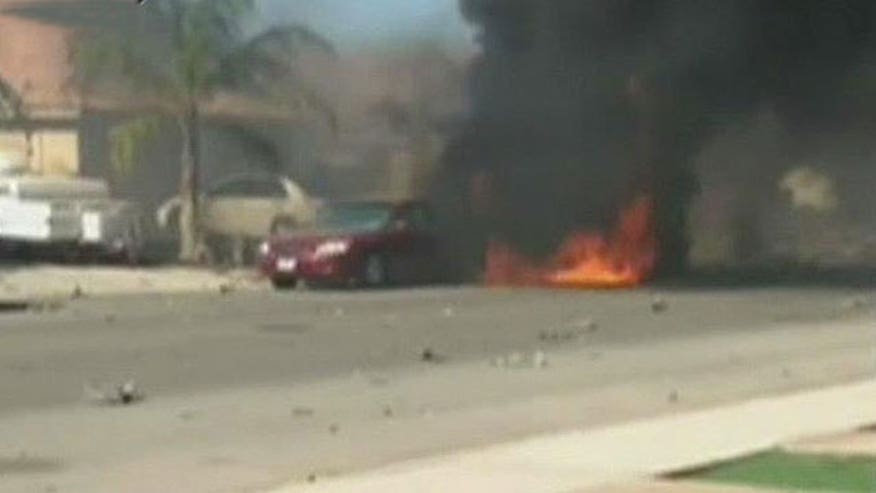 Three homes were damaged, but Marine officials said no one was injured Wednesday after a jet crashed in a Southern California desert community.
1st Lt. Jose Negrete said the pilot ejected safely and was taken to a hospital for evaluation.
The Harrier AV-8B went down at 4:20 p.m. in Imperial, a city of about 15,000 near the U.S.-Mexico border about 90 miles east of San Diego. Witnesses described an explosion and thick plumes of smoke.
The Associated Press reported that the roof of the house that took the brunt of the crash was gone, but the walls were still standing.
Christopher Garcia, 11, was watching television two blocks away with his father and brother when he heard an explosion that "felt like an earthquake." He hurried outside to see a pilot parachuting into a field about 200 yards from the crash.
"A mushroom cloud of black and red smoke" rose above the house with the collapsed roof, he said. The garage of the house next door was on fire.
He saw a woman crying outside saying, "That's my house!"
"It felt like a bomb was thrown in the backyard of the house," said Adriana Ramos, 45, whose home is less than a block from the crash scene. "The whole house moved."
Ramos fled with her 4-year-old granddaughter and 10-year-old daughter, who both cried at the sight outside.
Another witness, Jose Santos, was driving nearby and saw the plane flying "really low." Then "it just fell down," he said.
Santos sped toward the crash site. On the way, he saw the pilot who had parachuted to the ground.
"He didn't look like he was injured. He was rolling from side to side," and a police officer and others were helping him, Santos said.
At the crash site, there was chaos as people ran in every direction, he said.
The plane was from Marine Corps Air Station Yuma in Arizona, said Cpl. Melissa Lee, a spokeswoman for Marine Corps Air Station Miramar. She had no details about what might have caused the accident.
Officials at the Yuma station referred questions to officials at Miramar.
Local police and fire departments referred questions to the Marines, and fire and federal aviation officials did not immediately reply to messages.
This was the second crash in a month of a Harrier jet from the Yuma air base. On May 9, a pilot was able to eject safely before his jet crashed in a remote desert area near the Gila River Indian Community, south of Phoenix. No one was injured.
The Associated Press contributed to this report.