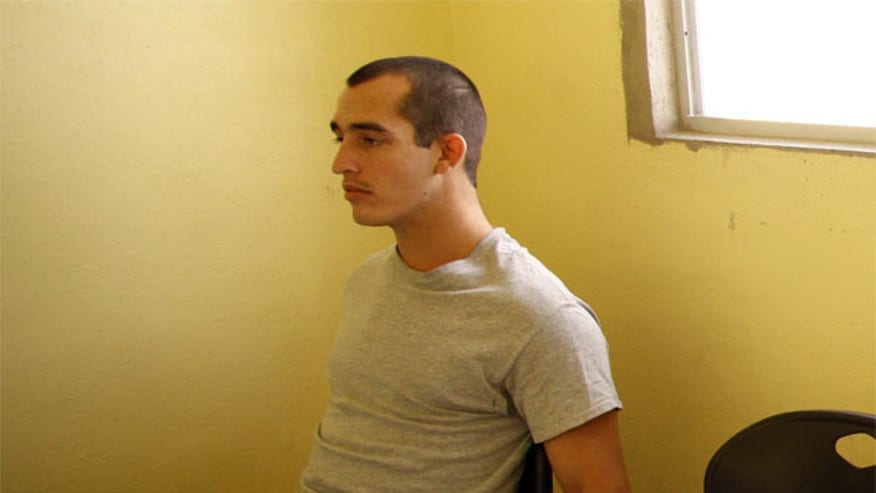 A U.S. Marine who is jailed in Mexico on gun charges told Fox News' Greta Van Susteren that he remains hopeful despite the fact he has been beaten, chained to a bed and verbally harassed while in custody.
In an exclusive interview on "On the Record with Greta Van Susteren" Thursday, Sgt. Andrew Tahmooressi discussed many new details of his captivity since being arrested March 31, after accidentally crossing the Mexican border with three guns in his truck.
Tahmooressi said after he crossed the border, he followed the instructions of the Mexican authorities and told his story to Mexican police officers.
"I said I have all my stuff back here, plus three guns, but I didn't mean to be in Mexico, it was an accident and there was no place to do a U-turn," Tahmooressi said.
One of the officers, who spoke English well, told Tahmooressi he would get him an escort to go back to the U.S. However, Tahmooressi said, then a Mexican military official took over and things changed.
"He just took control," Tahmooressi said. "He didn't seem to care at all about anything that I had to say. It was like a math equation in his head. Three guns, man equals prison."
Tahmooressi said he was handcuffed and taken to a Mexican prison, where he was allowed to speak with his mother on the phone. He said the conversation with his mother gave him the strength to try and escape, because he feared for his life in the prison.
"I thought that if I had went back into the cell that night that something, that I would be raped and killed," he said. "And I didn't think that telling the officers would help me at all."
After his escape attempt was thwarted, Tahmooressi said his experience got worse. He said the guards at the Mexican prison hit him multiple times in the face and stomach, until he was "gasping for air."
Tahmooressi said they also struck him so many times in the jaw he felt it go out of place. They also pressed him against the fence, stepped on his feet and called him names.
Tahmooressi said he was also stripped naked and chained to a bed, with his feet on one end and his hands on another. He said he could only stand for a while, but eventually figured out how to sleep with his head on his knees.
The Marine told Van Susteren he believes he received this treatment as a punishment, and eventually began fearing not only for himself, but for his loved ones.
"I was afraid," he said. "I was afraid for my family because I thought, you know these guys they wanted to harm me and that they were talking to the guards, that they were going to try and get information from the guards about the whereabouts of where my family was."
Tahmooressi said that he has been treated better since the media began covering his case. He said sometimes he gets depressed in the jail, but sometimes he is able to relax and trust that things will work out.
Tahmooressi said that he is hoping to be released within the month, but that he has the strength to keep going forward no matter how long it takes.