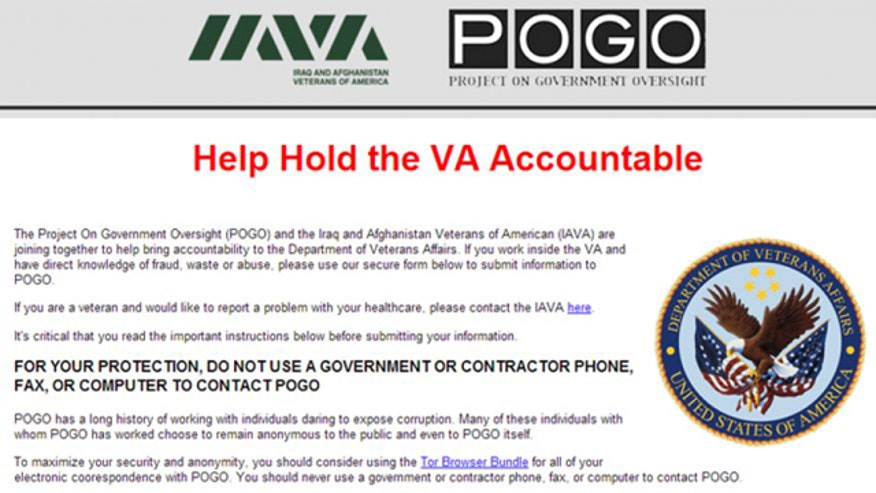 As concerns of "mismanagement and deception" within the Department of Veterans Affairs grow, an online whistle-blower website has been launched to help expose agency wrongdoing, particularly within its beleaguered health care system.
The secure website, VAOversight.org, was launched Thursday ahead of VA Secretary Eric Shinseki's testimony before the Senate Veterans Affairs Committee to address allegations of treatment delays and preventable deaths at a Phoenix veterans hospital. The joint effort by the Iraq and Afghanistan Veterans of America (IAVA) and the Project on Government Oversight (POGO) aims to "bring accountability" to the department by allowing whistle-blowers to expose corruption anonymously.
"It takes a lot of courage to step forward and put one's career at risk," POGO Executive Director Danielle Brain said in a statement. "Whistle-blowers shouldn't have to go it alone. We can help whistle-blowers hold the VA accountable, and keep the focus on solutions rather than attempts to hunt down those who voiced concerns."
Tips began coming in immediately after the website's launch, POGO spokesman Joe Newman told FoxNews.com.
[pullquote]
"Of course they haven't been vetted yet, but we have a person on staff who will vet them, check them out and follow-up on them, if necessary. So, she'll be busy."
Newman acknowledged that potential whistle-blowers -- individuals he said who tend to be "strong-willed and courageous" -- should weigh the decision carefully before submitting any alleged mispractice.
"It's something that's certainly not a decision to be taken lightly," he told FoxNews.com.
IAVA Chief Policy Officer Tom Tarantino said members of his organization are "outraged" by the ongoing reports of treatment delays and preventable deaths within the nation's largest health care system, serving nearly 9 million veterans a year at 152 hospitals and more than 1,500 other sites nationwide.
"Secretary Shinseki has finally started to emerge publicly and address these allegations, but short-term, reactive measures will not eradicate the more pervasive problems that are causing veterans to lose faith in the system," Tarantino said in a statement. "VA has a long way to go to earn back the trust and confidence of the millions of veterans shaken by this controversy."
The no-frills whistle-blower website suggests that potential users use a secure browser to submit any allegations.
"You should never use a government or contractor phone, fax or computer to contact POGO," the website reads. "POGO may be able to further research your concerns, bring public attention to any wrongdoing, and alert senior policymakers, who can bring about change. We've been a watchdog since 1981."
Shinseki and other witnesses are testifying Thursday about allegations that the Phoenix hospital maintained a secret waiting list to hide lengthy delays for sick veterans. A former clinic director says up to 40 veterans may have died while awaiting treatment at the Phoenix facility.
"If allegations about manipulation of appointment scheduling are true, they are completely unacceptable -- to veterans, to me and to our dedicated VA employees," Shinseki said.
The hearing before the Senate Veterans Affairs Committee came as President Obama assigned White House Deputy Chief of Staff Rob Nabors to work on a review focused on policies for patient safety rules and the scheduling of patient appointments. The move, announced late Wednesday, signals Obama's growing concern over problems at the VA. Problems similar to those that surfaced in Phoenix have since been reported in other states.
Ryan Gallucci, an Iraq War veteran and deputy director of VFW's National Veterans Service directorate, told lawmakers Thursday the VFW is listening to its members regarding VA health care.
"From hundreds of calls we learned some are very satisfied with their care, whereas others painted a picture of a VA healthcare system that is overburdened, under resourced, and at many times, paranoid," Gallucci told the Senate Veterans Affairs Committee, adding that the organization is committed to learning as much as it can about possible problems within the VA system.
The American Legion and some congressional Republicans have called for Shinseki to resign, a move he and the White House have resisted. The VA's inspector general is investigating the Phoenix claims, and Shinseki has ordered an audit of VA facilities nationwide to see how they provide access to care.
A White House official said Shinseki requested more help with the review, leading Obama's chief of staff, Denis McDonough, to tap Nabors for the assignment. Shinseki said he welcomes Nabors' help in making sure veterans receive high-caliber health care in a timely fashion.
"While we get to the bottom of what happened in Phoenix, it's clear the VA needs to do more to ensure quality care for our veterans," Obama said in a statement.
The chairman of the Senate committee said there were "serious problems" at the VA, but lawmakers must avoid a rush to judgment.
"I don't want to see the VA system undermined," Sen. Bernie Sanders, I-Vt., told The Associated Press. "I want to see it improved. I want these problems addressed."
The Associated Press contributed to this report.