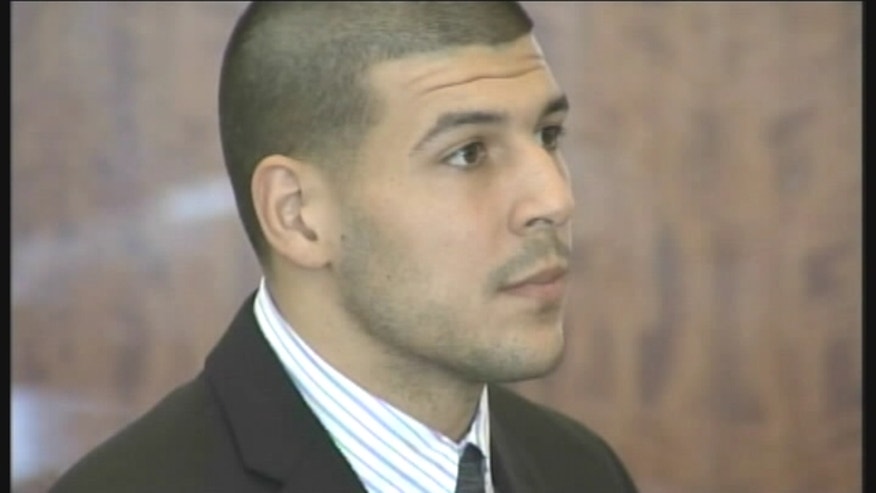 Aaron Hernandez is reportedly enjoying a stress-free life inside a Massachusetts prison as the former New England Patriots star awaits trial for murder.
In a Nov. 17 letter obtained by TMZ, Hernandez said he's "way less stressed" behind bars at the Bristol County House of Corrections, where he remains incarcerated while awaiting trial in the death of Odin Lloyd, a 27-year-old semi-professional football player who was dating the sister of Hernandez's girlfriend. Lloyd's body was found a mile away from Hernandez's residence in June. Hernandez, 24, pleaded not guilty in September to first-degree murder.
"I'm just anxious to go to trial to see what's up and prove my innocence," Hernandez wrote to a male pen pal, according to TMZ. "Regardless, I'll be good, but I know I'll be free because I'm truly innocent and will prove it!"
Hernandez claims he has passed his time reading books, some 25 of them, and referenced the intensity of "jail workouts" in the letter.
"I'm using this time to become stronger, wiser," Hernandez wrote, "and trying to come out, when I come home, way more intelligent, which I will!"
Hernandez, who last appeared in court in October, also expressed his desire to hopefully return to the gridiron and said corrections officer had not seen him in a "bad mood" yet. Hernandez's letter also included a crude drawing of a naked woman.
"It's not that bad, honestly," Hernandez's letter continued. "'I'm just hoping I am out within these next few years, to get a chance to ball again, if not, I'm still straight! I'm still gettin [sic] it daily in here, that's a given!"