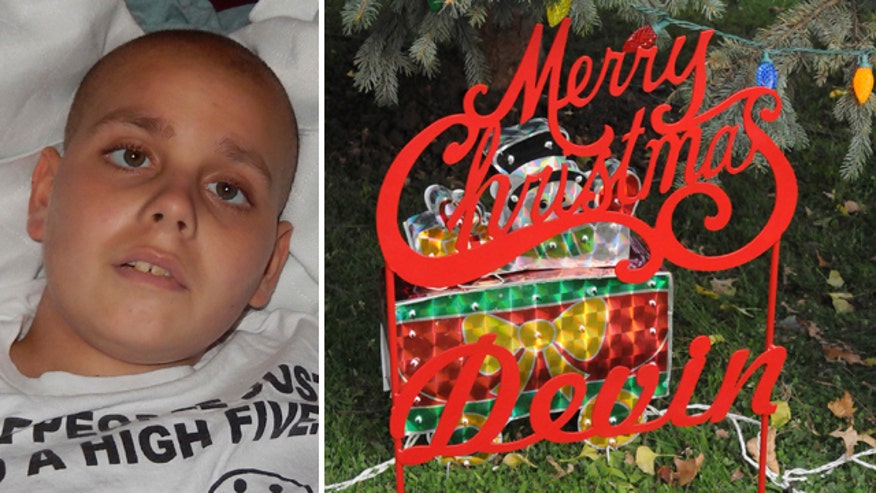 Christmas has come early for an Ohio boy whose community has rallied around him in his fight against an aggressive form of brain cancer.
Devin Kohlman, 13 and a resident of Port Clinton, has been battling the cancer for more than a year, but doctors have told his family that chemotherapy isn't working and he may only have a few weeks left to live, Toledo News Now reports.
"We want Devin to have the best Christmas that he's ever had," said his mother, Alexis Kohlman. "And we want to make sure that he has Christmas."
The community answered her wish, throwing a celebration with hundreds decorating the city and filling the streets with Christmas spirit.
[pullquote]
Devin returned home from a Cincinati hospital Sunday and was greeted by well-wishers at his home in the center of Port Clinton. The next morning volunteers decorated a gazebo and set up a Christmas tree in a nearby park, placing a star on the tree with the words "Merry Christmas Devin," the Port Clinton News Herald reports. City workers trimmed a tree along a street to make sure Devin could see it from his window.
On Monday afternoon, hundreds of residents, with some dressed in Santa hats, gathered outside Devin's home to sing Christmas carols including "We Wish You a Merry Christmas" and "Jingle Bells."
The crowd then paused for a moment to say a prayer before Santa and an elf arrived -- on the backs of motorcycles -- along with several members of the Lost Riders motorcycle club, the Port Clinton News Herald reports.
Santa visited Devin, who was sitting inside his home on a hospital bed. Walmart is funding all the family's Christmas gifts this year, according to Toledo News Now.
"You'll be the one who gets the moon this year," Santa told Devin.
"I've never seen anything like it," Alexis Kohlman told Toledo News Now. "We're really thankful. But it's for Devin. It's not for us."
Port Clinton Mayor Vincent Leone said he was "overwhelmed" at the number of volunteers who participated in the celebration.
"We wanted to make sure that [Devin] knew he had the support of his community – that we really cared about him," he said on Fox News' Happening Now. "We are not unique to any other small town. I think in small towns you always have that closeness, everyone pretty much knows each other."
"I know the Lord has his hand," he added.