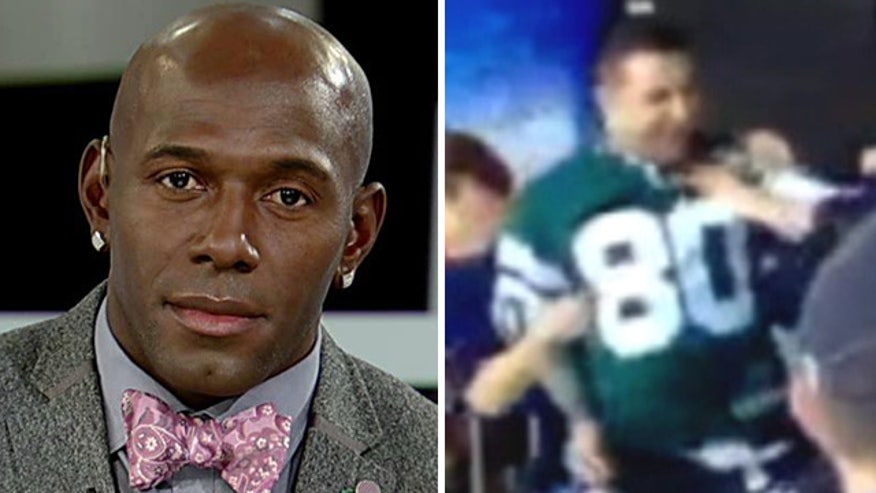 Four people have been charged for their roles in a fight that was caught on video following Sunday's game between the New York Jets and New England Patriots and drew national attention when a male Jets fan punched a female Patriots fan.
New Jersey State Police filed simple assault and disorderly conduct charges against the Jets fan, 38-year-old Kurt Paschke of Holbrook, N.Y.; the Patriots fan he punched, 26-year-old Jaclyn Nugent of Boston; and two of her friends, 28-year-old David Sacco, also of Boston, and Amanda MacDowell, 25, of Marlborough, Mass. All four are due in court on November 13.
The New York Post reported that law enforcement believes Nugent and MacDowell initiated the fight that culminated in Paschke's punch seen around the world.
"The women were the aggressors," the paper quoted a law enforcement source as saying. The paper added that the women were seen kicking and punching Paschke in the head before he retaliated.
Meanwhile, the Jets announced Tuesday night that all four were banned from future events at MetLife Stadium, saying that the team had "zero tolerance for such behavior." However, the Jets specifically did not say that anyone was banned for life.
"Once the legal process has run its course, each of them must take the necessary steps before even being considered for readmission to future events," read a statement from the Jets, in part. "Any person banned from MetLife Stadium events may be considered for re-admittance upon completion of an online conduct course, the submission of a written apology, and a request for permission to be allowed to attend events at the stadium."
The Post reported that Paschke routinely travels to Jets home games at MetLife Stadium in a special "Jets Mobile" bus with his father, Kurt Sr., a retired police officer and Jets season ticket holder.
It wasn't immediately clear if the three Massachusetts defendants had attorneys; phone numbers for them could not be found Tuesday night. Paschke's attorney has said a full review of the evidence will vindicate his client.
In comments made Tuesday before the charges were announced, Paschke's father defended his son, saying he was defending himself.
"My wife is a breast cancer survivor and he brought her to the game to have a nice day and these people ruined it and now it's being turned around like he is the aggressor," Kurt Paschke Sr. told The Associated Press. "If you watch that video, you can clearly see he is being pulled back by one kid in a Patriots jersey while the other Patriots fans are smacking him in the face.
"I'm tired of hearing about you never hit a girl or punch a girl," he added. "But if three girls are attacking you what recourse, you know if someone can come up with a reasonable recourse that he had, I will be glad to listen to it."
The younger Paschke was convicted of criminally negligent homicide as a result of a 1992 stabbing outside a Sayville, N.Y., pizzeria, and was imprisoned from 1995 to early 1998, according to authorities and court records.
The Associated Press contributed to this report.
Click for the story from the New York Post.