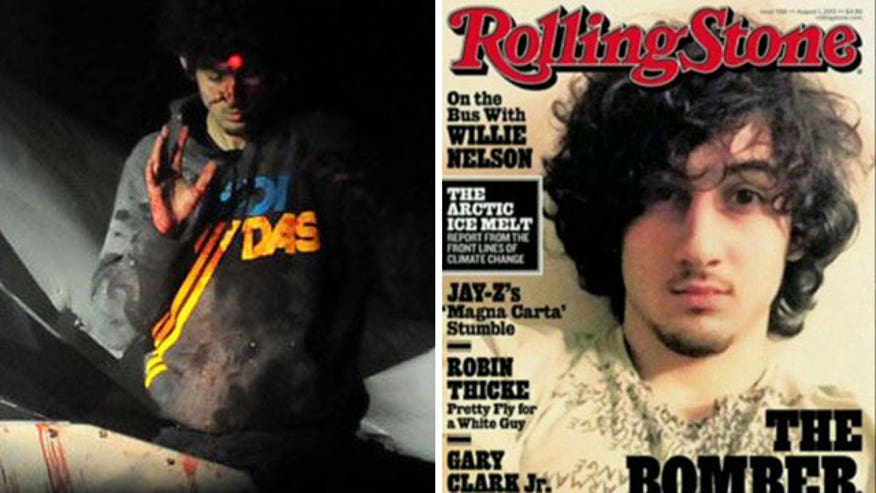 The senior editor of Rolling Stone has apologized for a comment he posted on Twitter in response to the backlash over the magazine's cover story of Boston Marathon bombing suspect Dzhokhar Tsarnaev.
Christian Hoard tweeted "I guess we should have drawn a d*** on Dzhokhar's face or something?" The tweet was later deleted, and Hoard issued an apology the following day, Boston.com reported.
"Yesterday I made a sarcastic remark here in response to the RS cover controversy. I stand by our cover, but not my tweet - it was inappropriate and disrespectful. I'm sorry," the tweet said.
The cover has generated outrage among victims, retailers and others who say the photo glamorizes Tsarnaev. At least five retailers will not sell the magazine.
The picture, which accompanies a story titled "Jahar's World," shows the 19-year-old accused murderer with his long, curly hair tousled, reminiscent of the magazine's iconic shots of rock 'n' roll royalty like The Doors' Jim Morrison and Bob Dylan.
Other critics of the cover, including Boston Mayor Tom Menino and Massachusetts Gov. Deval Patrick accused the magazine of offering Tsarnaev "celebrity treatment" and called the cover "ill-conceived, at best" in a letter written by Menino to Rolling Stone publisher Jann Wenner.
"The survivors of the Boston attacks deserve Rolling Stone cover stories, though I no longer feel that Rolling Stone deserves them," the letter concluded.
Rolling Stone issued a statement Wednesday saying the story was part of its "long-standing commitment to serious and thoughtful" coverage of the most important current political and cultural issues.
"The fact that Dzhokhar Tsarnaev is young, and in the same age group as many of our readers, makes it all the more important for us to examine the complexities of this issue and gain a more complete understanding of how a tragedy like this happens," the statement said.
Meanwhile, a Massachusetts State Police photographer has been relieved of duty after releasing unauthorized photos of Tsarnaev's arrest in response to the Rolling Stone cover. Sgt. Sean Murphy said in a statement to the magazine that Tsarnaev is evil and that his photos show the "real Boston bomber, not someone fluffed and buffed for the cover of Rolling Stone Magazine."
Massachusetts State Police spokesman David Procopio said the agency did not authorize Murphy to release the photos. Murphy now faces a hearing to determine if the will be suspended until an internal investigation is complete.
He has since received support from a police sergeant who was on scene during Tsarnaev's apprehension.
"You have to follow protocols," Sgt. John MacLellan, one of the Watertown police officers who was involved in subduing Dzhokhar, told The New York Post. "But a lot of us are shocked by that cover and totally understand what Sgt. Murphy did. We do hope he gets his job back," he told The Post.
The photos show a downcast, disheveled Tsarnaev with the red dot of a sniper's rifle laser sight boring into his forehead. They were taken when Tsarnaev was captured April 19, bleeding and hiding in a dry-docked boat in a Watertown backyard.
The April 15 bombing killed three people and injured more than 260. Massachusetts Institute of Technology officer Sean Collier was allegedly killed April 18 by Tsarnaev and his brother Tamerlan, who died following a police shootout..
Murphy said in his statement to Boston Magazine that Rolling Stone's cover photo, a softly-lit image of brooding Tsarnaev, insults officers killed in the line of duty, their colleagues and their families by glamorizing the "face of terror."
"It could be an incentive to those who may be unstable to do something to get their face on the cover of Rolling Stone magazine," he said.
"Murphy released pictures that are much more indicative of who he was – all bloodied up with that laser-pointer sight on his head," MacLellan told The Post.
A Facebook page titled "Save Sgt. Sean Murphy" received thousands of "likes" within hours of going live.
In his statement, Murphy said the capture played out like a television show, but he hopes his photos show it was "as real as it gets."
In a statement to MyFoxBoston.com the U.S. Attorney's Office said, "The release of these photos was completely unacceptable. We have spoke with the Massachusetts State Police, who have assured us that the release of the photos was unauthorized and that they are taking action internally in response."
Click for more from The New York Post.
Click for more from Boston.com.
Click for more from Boston Magazine.
Click for more from MyFoxBoston.com.
The Associated Press contributed to this report.