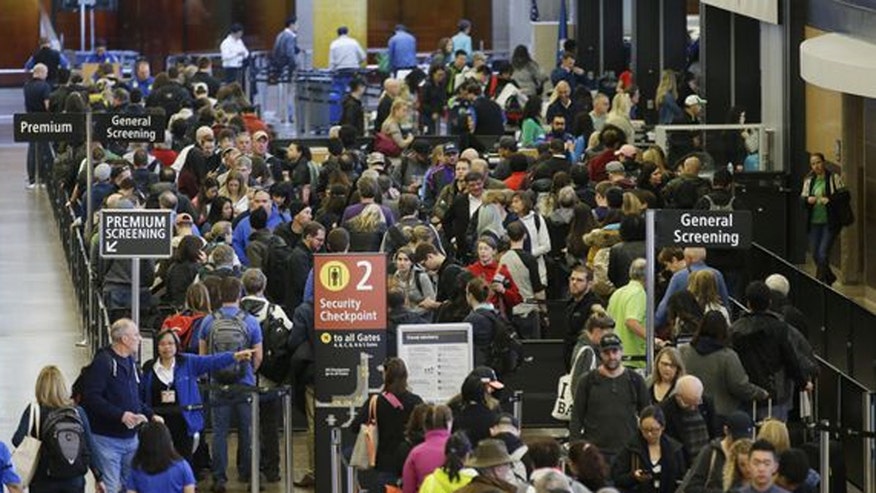 You've probably heard the news: More than 230 million of us will take to the skies this summer-- that's over two-and-a-half million travelers a day.
What will the airports will look like?
I picture something like the hordes of baby boomers descending on California in October for the Rolling Stones/Paul McCartney/Bob Dylan mega-concert.
Unfortunately, the only thing legendary about the crush at the airports will be the length of the TSA lines. Airport security lines are officially out of control.They have become so long at some airports that unprepared travelers are missing flights. And that's a recipe for vacation disaster.
These 6 tips will get you in and out of those treacherously long lines just a bit faster:
1) Avoid the crush times.
If you don't have a ticket yet, shop for flights that avoid the 'crush' times when lines are apt to be longest. Avoid flights on Mondays, Fridays and Sundays when possible and the so-called crush time windows of 6:30-9:30 a.m. and 3:30-6:00 p.m.
2) Get to the airport ultra-early.
An employee of mine just got an email from JetBlue, telling her to get to the airport two hours before her departure. That was for a domestic flight; for international travel, they recommend three hours. The airlines are getting serious about this because a few late-comers stuck in long security lines have been missing flights which creates headaches for them. You might have to cool your heels in the airport for a while as you wait to board-- but sure beats not boarding at all.
3) Join PreCheck.
If you have a month before you fly, go online to the TSA's PreCheck enrollment window and make an appointment for this faster security experience (you get to keep your shoes on, for one thing). There's a brief questionnaire to fill out, then you set an appointment for a short in-person interview and fingerprinting. It could take 30 days to get an appointment so sign up now if you're interested. PreCheck costs $85 for a five year membership but it would be worth it at twice the price.
4) Get the credit card.
Go to your airline's website and check out their branded credit cards because some offer perks like priority airport screening. This includes one of American's cards but it costs $450 a year. But the cost might be worth it to the business traveler-- or anyone else-- who could write off the fee.
5) Don't check a bag.
Sounds like a pain, but try it; not only is a carry-on almost always cheaper than a checked-bag, it means not standing in line for the airline rep to tag it and take it off your hands. It also means no waiting at the baggage carousel when you land, just grab and go. You will have to haul the carry-on through security but you have to go through that line anyway and many carry-ons come with wheels.
6) Use an app...or travel with an app-user.
There are so many these days, starting with the My TSA app (and if you're not a big app person, this one can be accessed on the TSA website, here). It has information on wait times plus what you can and cannot bring through security checkpoints.
Others apps include iFly, WhatsBusy and there are plenty more that you can find by searching "TSA security lines" and "apps." It's important to keep in mind that not every app is reliable. Tip: Just because your departure flight has a short line, it doesn't mean you won't have a long one on the way back. The best thing to do is get to the airport early.
Rick Seaney is an airline travel expert and the co-founder of FareCompare.com, an airfare comparison shopping site