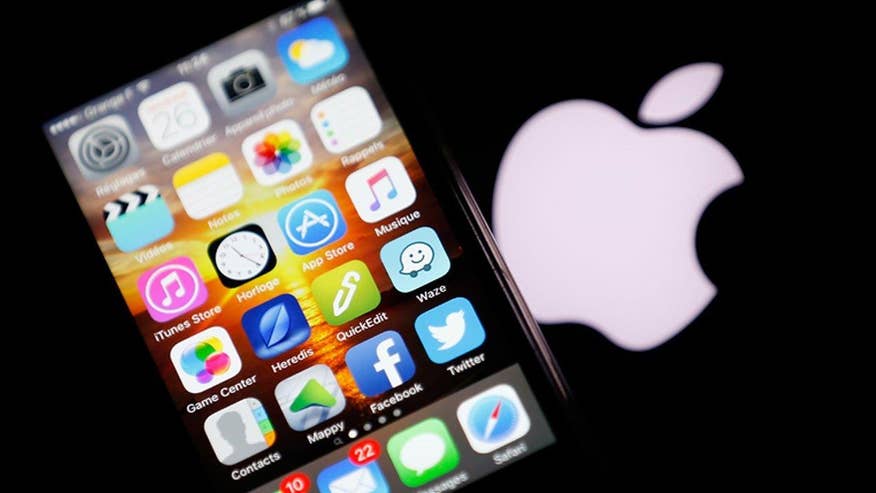 All eyes will be on Apple's Infinite Loop campus in Cupertino, Calif. Monday as the tech giant unveils its latest products.
Much of the chatter in the weeks leading up to the event has focused on a rumored iPhone SE with a 4-inch screen, which could replace the iPhone 5s in Apple's product lineup.
In keeping with previous launches, Apple's online store went offline early Monday in preparation for new products. A note reading "we can't wait to show you what we have in store," appeared on the site. "Our virtual doors are just about to open," it added. The event kicks off at 1 p.m. ET. Fox News' Clayton Morris is live-tweeting from the event.
Related: Apple will host 'let us loop you in' media event on March 21
"The iPhone SE is expected to possess a smaller 4 inch screen compared to the 6S and 6S Plus but will be identical in size to the 5S launched in 2013," explained Angelo Zino, equity analyst at S&P Global Market Intelligence, in a recent note. "However, this device is seen having capabilities like Apple Pay (not available in the 5S) and an A9 processor, which is used in AAPL's most recent devices."
Citing unnamed sources, 9to5Mac reports that the iPhone SE, like the iPhone 5s, could have a $450 starting price.
Drexel Hamilton analyst Brian White believes that the iPhone SE could prove particularly successful in markets such as China and India. "We believe a starting price point in the range of $400-$500 for the iPhone SE (bias toward the mid-point) makes sense vs. $649 for the 16GB iPhone 6s, $549 for the 16GB iPhone 6 and $450 for the 16GB iPhone 5s," he wrote, in a recent note. "We believe Apple will now be able to better tap into consumers that are just starting to enter the middle class (mostly coming from Asia) in developing countries."
Related: What to expect from Apple's March 21 event
Apple may also use Monday's event as the launchpad for a 9.7-inch version of its iPad Pro, according to experts. A large iPad Pro with a 12.9-inch screen was launched last year.
The company, explained S&P Global Market Intelligence's Zino, is projected to release a smaller 9.7-inch version of the larger iPad Pro that began shipping last fall. "We assume the device will essentially have the same capabilities as the larger iPad Pro version but utilizing a smaller screen and at a lower price point," he wrote, in his recent note. "We believe AAPL has thus far seen limited success with its larger screen iPad Pro but note struggles across its entire iPad portfolio."
Apple sold 16.1 million iPads during its recent fiscal first quarter, a 25 percent slump on the prior year's quarter, as the tablet faces competition from large-screen phones or "phablets" such as the iPhone 6, iPhone 6s and Samsung's Galaxy S6.
Related: What to expect from Apple's rumored iPhone SE
Citing unnamed sources 9to5 Mac reports that a 9.7-inch iPad Pro could have a starting price of $599 and include 32 GB of storage.
There has also been talk that Apple could unveil an iPad Air 3 during Monday's event. The company is yet to refresh the 9.7-inch iPad Air 2 that launched in October 2014. However, Drexel Hamilton's White thinks we're more likely to see a 9.7-inch iPad Pro than an iPad Air 3.
Related: Apple rushing to catch up with Samsung on displays, reports say
Invites to Monday's event feature the words 'Let us loop you in,' fueling speculation that Apple may be preparing a new band for its Apple Watch or even a return of the iPod loop strap.
Zino of S&P Global Market Intelligence thinks that we're unlikely to see Apple CEO Tim Cook brandishing a next-generation Apple Watch Monday. 'While last spring AAPL used this event to announce details of the 1st generation Apple Watch, we do not anticipate a next generation hardware device to be announced until the fall," he wrote. "Instead, we expect AAPL to reveal new band materials/colors for the Apple Watch with the potential to reveal a software update that will likely only have modest improvements."
Follow James Rogers on Twitter @jamesjrogers