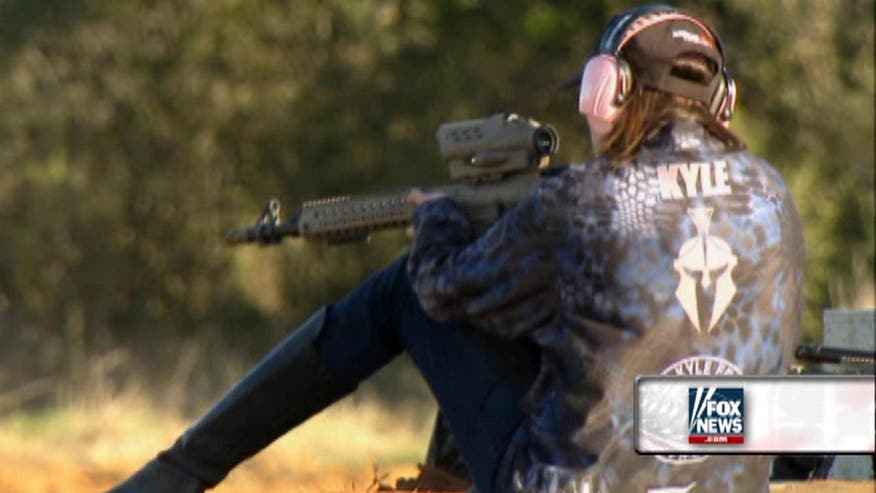 Can a rifle turn a novice into a world-class sharpshooter? Yes, based on the shootout scoreboard at a major fundraising event for the Chris Kyle Frog Foundation Saturday.
A sharpshooting showdown pitted a young American woman against the reigning NRA global champion … the novice crushed her opponent at the inaugural American Sniper Shootout Saturday in Mason, Texas.
The victorious novice shooter was Taya Kyle. Founder of the Chris Kyle Frog Foundation, she is the wife of U.S. Navy SEAL sniper Chris Kyle, known as "the most lethal sniper in US military history," author of autobiography "American Sniper," and the inspiration for Clint Eastwood's movie "American Sniper."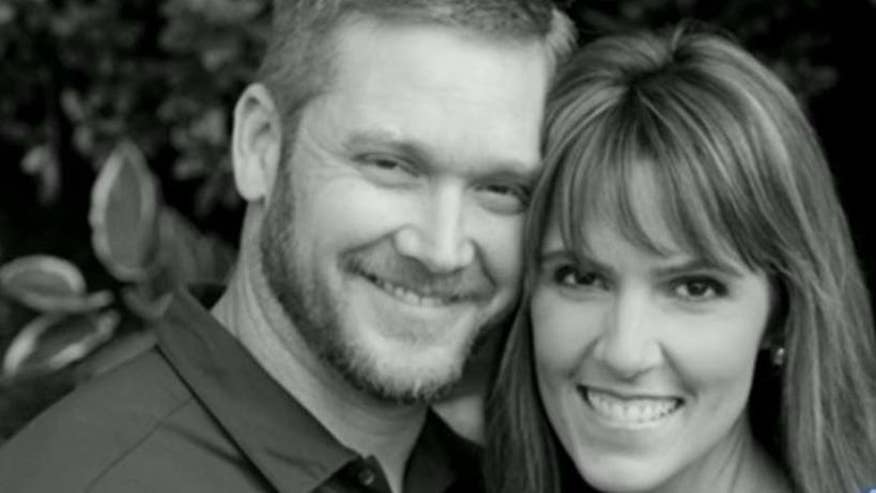 Taya Kyle chose to wield TrackingPoint's Precision-Guided Firearms when she took on the reigning NRA World Shooting Champion Bruce Piatt.
Related: Taking the fight to ISIS? Here's a free rifle
TrackingPoint says that its Precision-Guided Firearms can transform inexperienced shooters into world-class marksmen. To prove this claim, the company put $1 million on the table in an ultimate shootout. If the NRA champion Bruce Piatt could outshoot novice shooter Kyle then he would take home the hefty prize.
But Kyle defeated the champion, with the proceeds from the event going to the Chris Kyle Frog Foundation - here's how she did it.
The rifles?
Piatt competed with the current military rifles M4A1, M110, and M2010.
Taya Kyle opted for TrackingPoint's new M600, M800 and XS1 firearms. TrackingPoint touts advanced technology to enhance the accuracy of first-round shots at any distance.
Related: Army takes aim with more M4 weapons
Kyle explained why she chose to be armed with TrackingPoint at the shootout. "The technology of the gun was developed based on conversations with Chris [Kyle] about what factors a marksman has to consider on with every shot," she told FoxNews.com, via email. "The end result is technology that I know would have saved lives of friends we have lost and will save life and/or limb of those who put it all on the line for the 99% of us they choose to give their life for."
The rifles incorporate a range of innovations like the company's "RapidLok Target Acquisition." As a warfighter pulls the trigger, the target is automatically acquired and tracked. The range is also calculated and measured for velocity. Accuracy is enhanced because all this work is accomplished by the time the trigger is completely squeezed.
The showdown?
Kyle faced off against Piatt in a series of battlefield-simulated challenges.
The competitors had to take shots consistent with those warfighters must take in battle. It meant grappling with realistic challenges like shooting at targets placed at unknown distances as well as moving targets.
Related: Beretta shows off new battle rifle

To win, both competitors also had to shoot in a range of positions, including prone and off-hand shots. They also had to tackle blind shots when the shooter takes shots while completely hidden without a direct line of sight to the target. The competitors also emulated Chris Kyle's famous long-distance 'Sadr city shot,' which was featured in the film American Sniper.
And Kyle emerged the victor – by a lot. She made ALL of her shots from prone, kneeling, sitting and from cover…as in every single one – 100 percent.
How did the NRA champ fare? Piatt made 58.4 percent of the shots.
The challenges
There were 29 targets with a total of 10,140 points available.
Kyle scored a perfect 10,140. Piatt scored 3,040 points, making 58.4 percent of his shots. The scoring was weighted based on degree of difficulty.
In the challenges where the shooters took on targets without a direct line of sight while concealed from 'enemy fire' - Kyle made 100 percent of the blind shots while Piatt did not make a single one.
For practical application in war, this means the TrackingPoint technology has potential to allow American warfighters to stay concealed while still accurately taking on targets. The ability to stay concealed and still shoot accurately could help reduce the risk to warfighters.
Kyle explained further why the tech was developed. "Our first responders and military members regularly face situations most of us cannot imagine," she told FoxNews.com via email. "They need every advantage for precision and efficiency to protect and serve while minimizing collateral damage and risk to themselves."
Armed with TrackingPoint tech, Kyle was also able to make moving target and canted shots that Piatt did not.
The event
The day-long American Sniper Shootout was open to the public and also featured music from country singer Easton Corbin, Grammy winner Asleep At the Wheel.
The proceeds from the event benefit the Chris Kyle Frog Foundation. Kyle explained her inspiration for the event as "being able to simultaneously showcase the technology and raise money for CKFF to fulfill its mission ... this event was an opportunity to take care of our warriors and their families on many different levels."
For more information about participating next time, the event and the foundation visit www.chriskylefrogfoundation.org.
Allison Barrie is a defense specialist with experience in more than 70 countries who consults at the highest levels of defense and national security, a lawyer with four postgraduate degrees, and author of the definitive guide, Future Weapons: Access Granted, on sale in 30 countries. Barrie hosts the new hit podcast "Tactical Talk" where she gives listeners direct access to the most fascinating Special Operations warriors each week and to find out more about the FOX Firepower host and columnist you can click here or follow her on Twitter @allison_barrie and Instagram @allisonbarriehq.