Which Buccaneers on the bubble need to make the final 53?
Feb 24, 2016; Indianapolis, IN, USA; Tampa Bay Buccaneers general manager Jason Licht speaks to the media during the 2016 NFL Scouting Combine at Lucas Oil Stadium. Mandatory Credit: Trevor Ruszkowski-USA TODAY Sports
The Buccaneers have some decisions to make very soon. Wednesday night, they play host to the Washington Redskins in their final preseason tune up. Then, the work begins for Jason Licht and company. All rosters have to be down to the final 53 players by 4:00 PM on Saturday afternoon. The Bucs have to make some critical decisions that will shape the 2016 season.
So, let's talk about it.
More from The Pewter Plank
Every one of us latches on to a particular player during this time. There is that one guy we are pulling for, the player that we believe the team can't function without. So that is this week's roundtable discussion. We asked the staff of the Pewter Plank who the player is that we believe the team must hold onto as part of the final 53.
Here is what we came up with. Each page will begin with the staff member's name. Click their names to follow them on Twitter.
Dec 13, 2015; Tampa, FL, USA; Tampa Bay Buccaneers defensive end Kourtnei Brown (59) works out prior to the game at Raymond James Stadium. Mandatory Credit: Kim Klement-USA TODAY Sports
Kourtnei Brown has been cut 10 different times in his career, but the Bucs shouldn't make it 11. Keeping the former Clemson Tiger would likely force Tampa Bay to carry six defensive ends, but it's a move that would pay off. Brown may only have four tackles this preseason, but he would be a good piece to have for depth on the defensive line. He came up with a sack against the Cleveland Browns last week, making it eight in the game for the Tampa Bay defense. When I was watching the defensive line during training camp, Brown was a guy that stood out to me as someone who could be a productive part of an improved pass rush.
Two years ago, Jacquies Smith burst onto the scene as an effective pass rusher for the Bucs and just last year, Howard Jones showed some promise off the end as well. Both guys were once undrafted free agents, just like Brown once was. Brown could be the next Buccaneer defensive end to make the team off the roster bubble and make an immediate impact.
Jul 30, 2016; Tampa, FL, USA; Tampa Bay Buccaneers tight end Dan Vitale (86) runs with the ball as Buccaneers cornerback Vernon Hargreaves (28) defends during training camp at One Buccaneer Place. Mandatory Credit: Kim Klement-USA TODAY Sports
Week four of the preseason is make or break time for bubble players. Some bad players are going to get cut but so too will some talented players. It's hard to say how the Bucs currently feel about Danny Vitale, the teams sixth round pick out of Northwestern, but his lack of production in the preseason suggests that he could be a player on the bubble.
With that said, the Bucs should hang on to their "super-back" and continue to let him adjust to the NFL and his niche as a utility player. Versatility can be a wonderful asset for a team, especially in the event of an injury, and this makes Vitale someone worth hanging on to for a little longer despite his quiet preseason.
Aug 20, 2016; Jacksonville, FL, USA; h43 breaks up the pass to Tampa Bay Buccaneers wide receiver Jonathan Krause (10) during the fourth quarter of a football game at EverBank Field.The Buccaneers won 27-21. Mandatory Credit: Reinhold Matay-USA TODAY Sports
Jonathan Krause is the current Bucs' bubble player the team needs to keep on the 53-man roster following Wednesday night's pre-season finale.
The receiver is just one of a handful of receivers fighting for dwindling spots on the team and he may have the most upside of them all.
After being a consistent star on the practice field during camp he hasn't quite had the breakout game most had hoped, but he hasn't disappeared either.
With Donteea Dye now injured after a relatively impressive performance this pre-season, Krause could step in and help in the return game along with providing some depth for the offense.
Last year we all witnessed Adam Humphries explode onto the scene in Week 4 and this could be the guy to really separate himself among fellow challengers Bernard Reedy, Evan Spencer, Kenny Bell and Freddie Martino.
Aug 16, 2013; Foxborough, MA, USA; An NFL Heads Up logo is affixed to the helmet of a Tampa Bay Buccaneers players prior to a preseason game against the New England Patriots at Gillette Stadium. Mandatory Credit: Stew Milne-USA TODAY Sports
One player on the roster bubble that I believe the Bucs need to keep is Leonard Wester. Wester came in as a coveted undrafted rookie, and almost immediately left his mark. The Bucs have had an issue with depth and injuries across the offensive line for quite some time. The backup guard positions seemed to have been solidified, but as for tackle it is another story.
Pamphile being the Swiss Army knife that he is, is depth at both guard and tackle, but why not keep a rookie to master one position? Wester has been the second string left tackle for quite some time now and If Donovan Smith would happen to go down with an injury, Wester could jump right in.
It would also be no surprise if Wester would be trained at right tackle as well. Gosder Cherilus is a veteran who is getting paid good money to be a backup, if Wester continues to grow, he would be a viable cheaper option.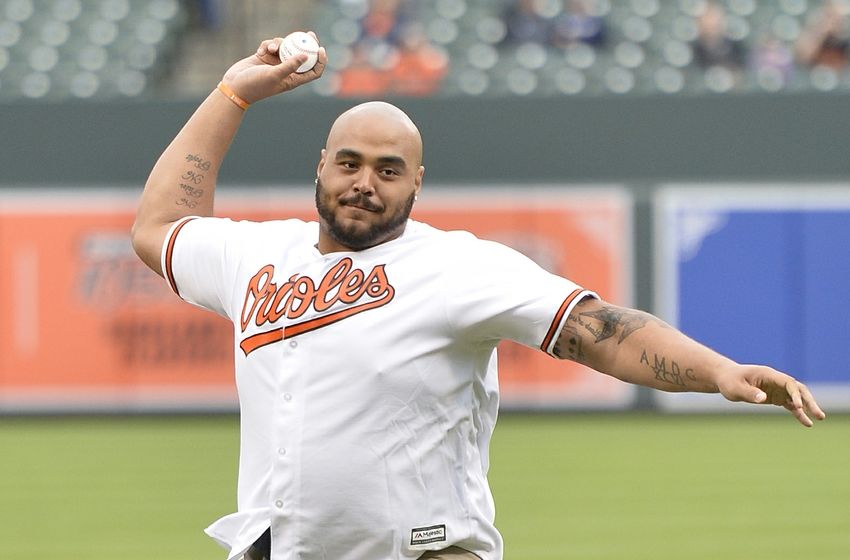 The player on the bubble I feel deserves a shot to make the roster is A.J. Francis. Francis is six-foot five and 330 pounds so he is not a small man. The Bucs are very thin at defensive tackle so he shouldn't have a problem making the roster but they need more help at other positions so that does make him expendable. Francis has the potential to be a key piece in their defense because of his size.
The Bucs are going to need space fillers on short yardage situations and on the goal line. Francis' size alone would take up linemen allowing players like McCoy and Ayers to get after the running back or quarterback. He won't put up numbers like the other tackles on the team but his role could be vital for the defense. The Bucs' defensive line has players that can play multiple roles like William Gholston but Francis' size alone should be enough for him to make the team.
Aug 26, 2016; Tampa, FL, USA; Tampa Bay Buccaneers wide receiver Bernard Reedy (15) runs with the ball as Cleveland Browns fullback Malcolm Johnson (42) defends during the second half at Raymond James Stadium. Tampa Bay Buccaneers defeated theCleveland Browns 30-13. Mandatory Credit: Kim Klement-USA TODAY Sports
Bernard Reedy hasn't been very impressive as a receiver, however with the injury to Dye, there doesn't seem to be anyone in-house to cover kick returns. Although the roster spot may be better spent on an actual return specialist (link there), Reedy seems the most capable on the team to handle it if the Bucs don't go with a free agent or waiver claim.
Reedy is a raw talent with amazing speed, so maybe after more time with Winston and in the offense he can turn into a potential deep threat. Until then, he may find himself lucking into a roster spot based solely on the fact that he would be the return man.
I don't trust Bell in that role, nor do I want to see Russell Shepard or Adam Humphries doing it. Not that they can't, but receiver is not a deep position and the Bucs' third and fourth receivers are at a high injury risk playing special teams.
Aug 11, 2016; Philadelphia, PA, USA; Tampa Bay Buccaneers defensive end Howard Jones (95) in action against the Philadelphia Eagles at Lincoln Financial Field. The Philadelphia Eagles won 17-9. Mandatory Credit: Bill Streicher-USA TODAY Sports
Howard Jones needs to stick around for a couple of reasons. First of all, he would be a DPR, or designated pass rusher. In only 402 snaps last year (Pro Football Focus), Jones posted five sacks. The sacks were always at premium times in the game, as three of the five sacks were in games that were within seven points. It doesn't take a ton of playing time to learn this guy has ability.
He also adds an important depth role. What happens if the unthinkable goes down, like Gerald McCoy suffering an injury that takes him out for an extended period? They have Clinton McDonald, and then the cupboard is bare. Guys like Noah Spence can move to the inside, as can William Gholston. But that takes away the depth on the outside. Having a guy like Jones that is an edge specialist is an added dimension that would prove valuable.
Next: Donteea Dye to Waived/Injured List
Who do you think needs to be kept?
This article originally appeared on