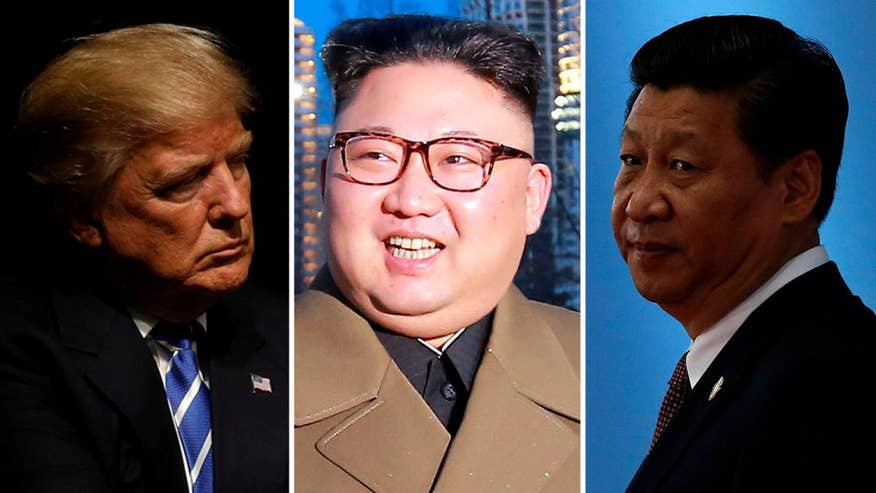 Chinese President Xi Jinping arrived Thursday for a two-day summit with President Trump at his Mar-a-Lago retreat, with North Korea and other pressing issues expected to top the agenda.
Trump, though, kept it close to the vest as he set expectations for the meeting.
"It is going to be very interesting. Nobody really knows," Trump predicted Thursday morning on "Fox & Friends," in a tone more tempered than his Twitter feed last week.
The president earlier had declared his meeting would be "very difficult" as "we can no longer have massive trade deficits."
While Trump for years has railed against China's monetary and trade policies as hurting American workers, North Korea could rise to the top of their summit agenda. He told Fox News' Pete Hegseth that "we have a big problem" with North Korea.
While Trump would not say whether he would use trade as leverage to pressure China to exert influence on North Korea, he told Fox News he would "be in there pitching."
The meeting follows a burst of North Korea missile-testing. On Tuesday, a Trump official said "the clock has now run out" for Pyongyang to end its testing of nuclear and ballistic missiles and that "all options are on the table for us."
A day later, North Korea fired a missile into the Sea of Japan. Pyongyang took a similarly provocative action during Trump's meeting with Japanese Prime Minister Shinzo Abe at Mar-a-Lago in February.
In Asia to meet with Japanese and South Korean defense officials, U.S. Pacific Fleet Commander Admiral Scott Swift told reporters on Thursday that diplomatic efforts and sanctions have not been an effective counter to Pyongyang's aggression.
"Up to this point I think it is fair to say that economic and diplomatic efforts have not supported the progress people have been anticipating and looking forward to," conceded Swift.
The decision to host the Chinese leader in Florida has been viewed as an effort make the diplomatic talks less formal.
President Xi and his wife, Peng Liyuan, arrived in Florida Friday afternoon ahead of a dinner meeting at the "Winter White House."
White House officials have tried to manage expectations by stressing that they are simply setting a framework for future diplomatic and military talks.
In a briefing Tuesday, one administration official characterized the talks over dinner and Friday working lunch as simply "an opportunity for the two leaders to exchange views on each other's respective priorities and to chart a way forward for the U.S.-China bilateral relationship."
Trump has indicated that his approach toward China, particularly on trade, would be a departure from past administrations.
"We've not been treated fairly on trade for many, many years," he told Fox News, echoing a common campaign theme that China was a currency manipulator and could not be trusted to make fair trade deals.
The president began to address that unfair treatment last week when he signed two executive orders, including one to crack down on trade abusers.
On March 31, he signed an order to more strictly enforce penalties against nations that engage in trade abuses. The other executive order instructed the Treasury Department to complete in 90 days a detailed study of the causes of trade deficits on a country-by-country basis.
The White House denied the measures were related to China, but Trump said at the signing ceremony that he planned to "get down to some very serious business" with China at the summit.
Xinhua, China's official news agency, showed little concern and argued mutual benefit would prevent any hiccup in U.S.-China trade relations.
"Neither side can afford to sacrifice cooperation. Thus, the China-U.S. relationship will continue to sail forward, buoyed by the two nations' nearly 520-billion-dollar trade relationship," said a Thursday editorial.